MT-990 motorised precision microtome
The RMC MT-990 is a universal, heavy duty, motorised microtome ideally suited to a wide variety of applications in histopathology, materials research, forensic science, quality control etc. With a motorised programmable automatic trim, the MT-990 microtome cuts paraffin, plastic and hard material specimens.
The motorised cutting mechanism and feed system of the MT990 with its robust carriage to eliminate backlash and chatter, are mounted on a heavy base casting to give maximum stability during sectioning.
An optional cryo attachment is available for sectioning from ambient temperature to -140C. See: cryo attachment.
MT-990 microtome highlights:
Selectable cutting window

Motorised programmable automatic trim

Cuts paraffin, plastic and hard specimens

Motorised cutting stroke – may also be used manually

Motorised knife stage, 28mm maximum travel

Feed totaliser, selectable for either total feed in micrometers or total number of sections

Separate controller for hands-off operation

Section waste tray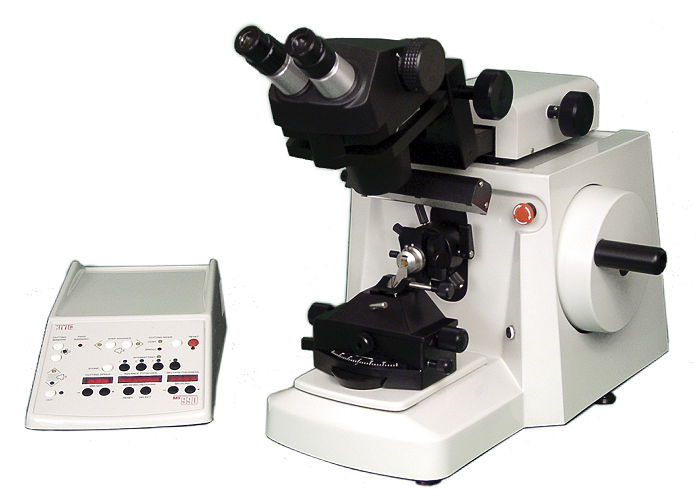 Technical specifications:
Section thickness range: 0.25 to 30 microns in 0.25mm increments
Vertical cutting stroke (manual or motorised): 64mm
Horizontal knife advance (motorised): 28mm
Cutting speed range: 0.1 to 330mm/sec
Adjustable cutting zone
Accelerated return stroke
Automatic trimming in defined steps
Positive hand wheel locking with additional emergency electronic brake
Separate touch panel control unit with digital section counter and feed totalizer (µm)
Three cutting modes: continuous cut, single stroke, intermittent cut
Four-channel memory for storing section thickness/cutting speed combinations
Fast coarse feed advance/reverse control