RMC cryosectioning for material sciences
RMC MT990 rotary microtome combines with the RMC CR1000 to provide a powerful tool for cutting thin sections from various soft materials. This unique combination comprises a low temperature cryo chamber, designed to operate with liquid nitrogen cooling. A variety of materials which would be impossible to cut at room temperature can easily be prepared. Soft polymers and rubbers are among the main specimens prepared using the MT990/ CR1000. It can also be used to prepare sections and for 'cryo-planing' to produce high quality flat surfaces.
Applications cover a broad spectrum of light microscopy and scanning electron microscopy applications, including:
Materials research

Forensic science

Biological applications

Product development

Product testing

Quality control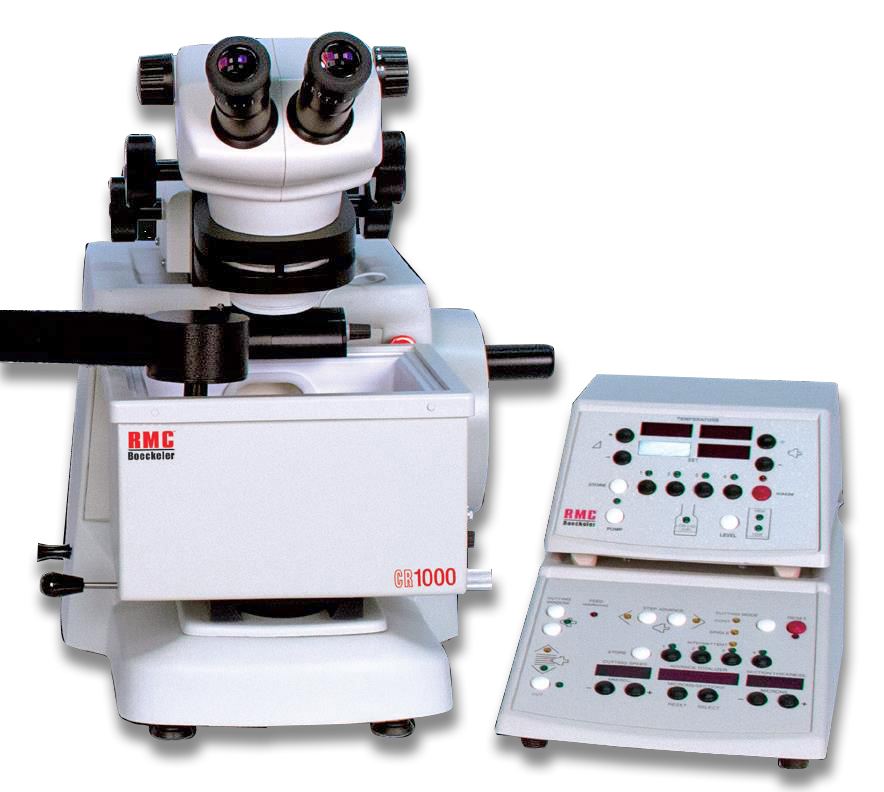 For samples requiring an inert atmosphere for preparation, the cryo chamber is flooded with gaseous nitrogen, or for certain samples, argon can be used for the cooling/atmosphere. 
Technical specifications:
Section thickness 0.25um to 30 um
Cutting stroke operation – motorised and manual
Stackable control units – space saving and convenient
Large chamber for ease of specimen handling
Removable chamber easily returns to room temperature work
12 litre tabletop dewar uses little space, easy to refill, up to 7 hours before refill
Temperature range +40 C to -160 C with stability of +/- 0.1 C
Knife holders for wet or dry cryo diamond knives, triangular tungsten carbide knives and glass knives from 6mm to 12mm wide
Specimen holders supplied with a 10mm flat specimen holder for blocks and films
2mm, 3mm and 6.5mm pins
Also accommodates standard ultramicrotomy holders
Knife rotation: +/- 15 degrees by a knob on the outside of the chamber