High quality ultra-thin sections requires high quality glass knives.
Glass knives produced by the 'balanced break' method are proven to be the sharpest and most consistent compared to traditional glass breaking methods. They have become well established as the preferred alternative to diamond knives used for cryosectioning applications such as the Tokuyasu method.
The RMC GKM-2 Glass Knifemaker is specifically designed to incorporate the "balanced break" method to produce optimum knife edges. Balanced breaks require equal lengths of glass on each side of the score, along with a mechanism that applies equal load to each side, resulting in a slow, controlled and straight break.
To achieve consistent, controlled breaks, two aspects of the breaking process must be measurably controlled: position and load. The RMC GKM-2 glass knifemaker accurately positions the glass using precision micrometers. During the glass breaking process the load exerted is controlled by the clamping handle and breaking arm with constant feedback displayed on the digital readout. This enables the operator to consistently reproduce breaking pressure during the final controlled break for more accurate knives every time.
The rectangular shaped body of the RMC GKM-2 glass knifemaker is machined from solid metal components for long term stability and precision. It is designed to handle glass strips ranging from 6 mm (1/4″) to 8 mm in thickness, with mechanical stops for producing precise 25 mm glass squares with ease. Micrometers provide reproducible alignment of the 25 mm glass squares for precise diagonal breaks. The alignment is secured by a locking mechanism to maintain your desired setting.

Easily produces consistent, controlled breaks
Digital readout displays load applied to glass as breaking arm is moved
Produces knives up to 10 mm wide
"Balanced Break" method for the sharpest knives
Precision micrometer positioners
Built-in mechanical stops for easy positioning
Precision mechanism supports "Slow-Break" technique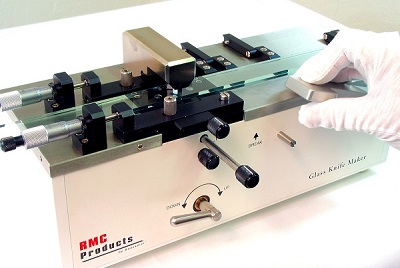 Digital display
Two micrometers
Protective goggles
Brush
Instruction manual
Replacement scoring wheels and axle
Glass, 1 box 6 mm x 1" x 16" (25.4 x 406 mm) 30 pieces
GKM training video. Detailed instructions on how to make good glass knives with the RMC Glass Knife Maker. 55 minutes in length.
Width: 360mm
Height: 160mm
Depth: 170mm
Weight: 13.6kg
ASY-1035. GKM scoring wheel kit. Includes two (2) replacement scoring wheels and one (1) replacement axle"
GEN-1002. glass strips for GKM2: 6mm x 25.4mm x 406mm, package of 30 pieces
GEN-1003. glass strips for GKM2: 8mm x 25.4mm x 406mm, package of 24 pieces
RMC Boeckeler is a specialist manufacturer of ultramicrotomes, microtomes and related instruments for the TEM and LM markets with a history dating back to 1941.
Based in Tucson Arizona in the USA, RMC Boeckeler is a privately owned. Their instruments are used globally in many fields including materials science and cell biology, with special emphasis in specimen preparation for 3D electron microscopy solutions.