RMC LN Ultra cryosectioning system
RMC LN Ultra is a cryosectioning system option for RMC PowerTomes. LN Ultra will produce high quality, ultra-thin cryosections for demanding techniques such as CEMOVIS, cryo-immuno-labelling by the Tokuyasu method, soft polymers and other materials such as gels.
The high thermal stability of the specimen arm and cast aluminium chamber easily produces sections of exceptional quality. Now with new LED illumination to increase operator comfort and performance.
Chamber mounts and dismounts easily and converts any RMC PowerTome for low temperature sectioning
High precision temperature control is possible across a range from -180°C to +35°C
User defined temperatures for different techniques stored in four memory channels
Thermally efficient cryogenic design ensures low LN2 consumption, negating the need for large bulky dewars
Externally heated walls eliminate the risk of condensation in the working chamber
Ergonomically designed workstation for easier section manipulation for left and right handed users
Image right shows the LN Ultra attached to an RMC PowerTome (order separately)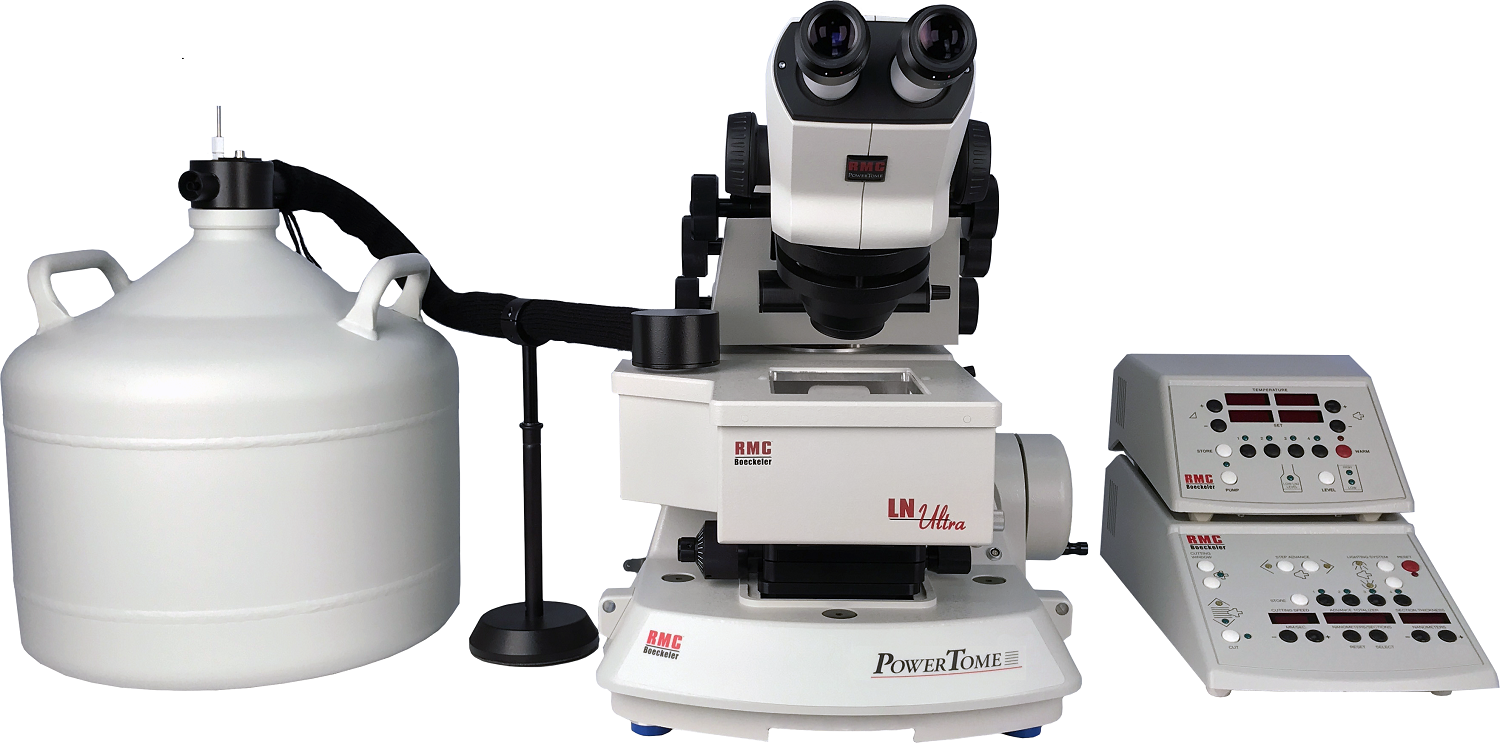 To configure a working LN Ultra you will require the following:
LN Ultra cryosectioning system (CRY-1001)
Unless retrofitting to an existing RMC PowerTome you will need: PowerTome (PT-XL, PT-PCZ or PT-3D) with antivibration table (GEN-1021) and if required, compressor (GEN-1022)
DiATOME knives : cryo immuno 3.0mm (DCIMM3530) and trim 90 (DTB90)
Static line ioniser (GEN-1030)
Please contact Labtech  for further information on accessories and options.
LN Ultra Cryosectioning system supplied complete with the following:
Insulated and externally heated cryosectioning chamber with internal LED chamber illumination and LED backlight
Control unit with digital display for knife and specimen temperature and four temperature memory channels
LN2 Dewar 12 litre with cap
LN2 pump (non-pressurized) with insulated transfer line
Four knife holders for combination of glass & diamond knives and optional for diamond trimming tools
Cryo workstation with hand rests and tool tray
Pin holders
Flat specimen holder
Specimen mounting pins (ten @ 2mm, 3 mm, 6.5mm)
Stereomicroscope mounted breath shield
Assorted cryo tools
Pump stand
Power supply unit
Electrical interconnect cables
Cryo chamber covers
Instruction manual
Dimensions
635 x 635 x 635mm (shipping). Weight: 26kg (net) 30kg (gross)
Electrical Power
120/240V 50/60Hz
RMC Boeckeler is a specialist manufacturer of ultramicrotomes, microtomes and related instruments for the TEM and LM markets with a history dating back to 1941.
Based in Tucson Arizona in the USA, RMC Boeckeler is a privately owned. Their instruments are used globally in many fields including materials science and cell biology, with special emphasis in specimen preparation for 3D electron microscopy solutions.