Automated 3D Cell-Based Assay Technology
The Pu·MA System 3D, consisting of the Pu·MA System and 3D Flowchips, automates assays for 3D cell models such as organoids, tumoroids or spheroids. The system maintains the organoids in a unique sample chamber that allows easy media, metabolite or reagent exchanges for oncology, drug testing, labelling, toxicology, or metabolomics research. This open platform enables multiparametric data collection from single organoid samples.
Automated "hands-off" workflow for complex assay protocols
Protected sample chamber to prevent organoid damage
Perform in situ media exchanges, compound additions and supernatant sampling
Compatible with high content imaging and plate reader systems
Types of assay steps that can be performed:
Multiparameter spheroid based Oncology assay (including primary, iPSC and patient derived tumoroids)
Immunofluorescence staining of 3D structures of high content imaging
Metabolite analysis
Sequential Drug Addition and downstream Analysis
In situ sampling
Cell Viability Assays
Functional Assays
Analysis of Matrigel grown organoid assays
2º toxicology screening and HIT profiling
3D Flowchips are consumables that are to be used with the Pu·MA System. The Flowchips are specially designed for microfluidic reagent exchange. They are available in configuration of 4 Flowchips. Researchers can use between 1 to 4 Flowchips per assay run. They are compatible with standard multi-channel pipettes.
Features & Benefits:
Open platform for complex assay protocols
Connected sample wells for microfluidic reagent exchange
Protected sample chamber prevents damage to 3D cell structures
Thin optically clear bottom compatible with imaging and plate-reader systems (SLAS ANSI standard 384-well spacing)
The Pu·MA System has been designed to automate assays using our proprietary 3D technology. It is used with the Pu·MA System 3D Flowchips. This system can fit inside any standard cell culture incubator or workstation and maintains the 3D cell models under physiological conditions while the assay steps are in progress, which reduces stress and damage to the cells
Features & Benefits
Automated "hands-off" steps for complex assay protocols
Valve-less fluid exchange
Intuitive touchscreen to access protocols
Easy to use and maintain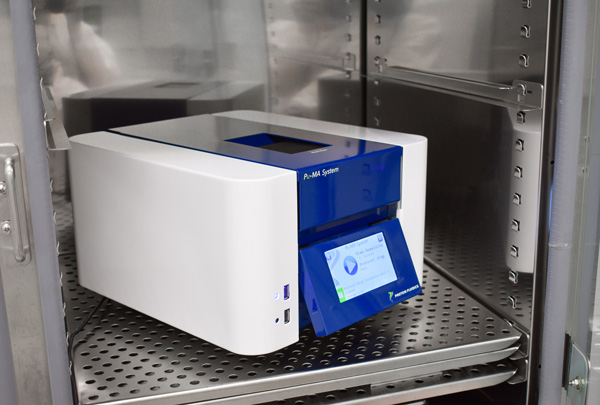 Protein Fluidics Pu∙Ma System Fluid Transfer
Protected Sample Chamber Pu∙MA System Flowchips