Barrier foil zip lock bags
Micro-Tec barrier foil ziplock bags are ideal for storing and protecting various types of specimens. Tear notches are provided for easy removal of the permanent seal. The bags are constructed as pouches with a wider bottom. The barrier foil thickness is 79µm with a laminate construction of 12µm PET, 7µm aluminium foil and 60µm PE.
The laminate construction makes these barrier foil bags tough and virtually impermeable to moisture.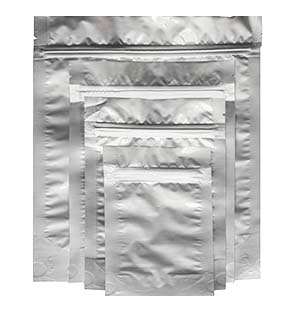 Micro-Tec barrier foil ziplock bags protect specimens against:
Moisture
Light (UV)
Oxygen
Dust
General environmental influences
Available in four sizes in packages of 25.
| | | | | | |
| --- | --- | --- | --- | --- | --- |
| Product # | Volume ml | Width mm | Height mm | Base mm | Seal flap height mm |
| 13-079010 | 50 | 85 | 125 | 25 | 30 |
| 13-079025 | 100 | 110 | 160 | 32 | 30 |
| 13-079050 | 250 | 130 | 190 | 35 | 30 |
| 13-079100 | 1000 | 185 | 225 | 45 | 30 |