Micro-Tec quick-check vacuum test gauges
Micro-Tec Quick-check vacuum test gauges offer a quick and easy way to test vacuum performance, test pump-down times and determine leaks in vacuum lines. Since Quick-check vacuum gauges do not require an external power source, they are ideal for field applications or for use in remote locations. The Quick-check vacuum gauge is equally useful in the laboratory for quick performance testing of vacuum pumps, vacuum lines, vacuum coating systems, vacuum ovens, etc. 
This affordable tool should be a standard item in any vacuum servicing toolbox. Gauges includes a triple scale read-out on a Ø50mm dial (0 to -1 bar / 0 to -100kPa / 0 to 30 inches Hg). The gauge is housed in a robust steel case and has a clear glass window. The standard vacuum connection is a 1/4" NPT thread in brass. Additionally, versions are available with DN16KF, DN25KF and DN40KF quick-change KF vacuum flanges.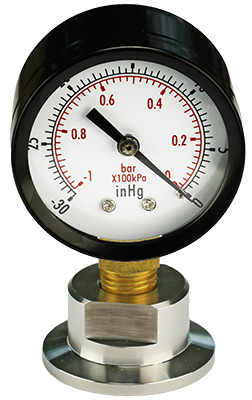 Features of Micro-Tec Quick-check vacuum test gauges:
Compact analog dial type vacuum gauge

No power needed

Ideal for field and remote locations

Robust metal casing

Quick vacuum check

Vacuum range in bar, kPa and inches of Hg

1/4" NPT connection standard

Optional DN16KF, DN25KF and DN40KF vacuum flanges
---
Specifications of Micro-Tec Quick-check vacuum gauges
Product #
61-010001-6
61-010001-16
61-010001-25
61-010001-40
Vacuum connections
1/4" NPT male
DN16KF
NW 16
DN25KF
NW 25
DN40KF
NW 40
Dial

Ø50mm

Vacuum range

0 to -1bar
0 to -100kPa
0 to -30 inches Hg

Accuracy

+/- 4%

Internal construction

brass

Window

glass

Use temperature

-20°C to +60°C

Dimensions
52 x 29 x 72mm
52 x 29 x 84mm
52 x 29 x 84mm
52 x 29 x 90mm