After using your DiATOME diamond knife it is best practice to clean it before storing it away. We recommend using the following methods: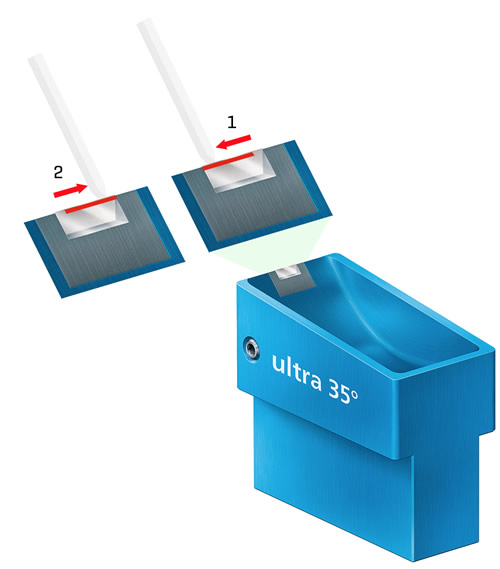 Method 1
As soon as you have finished sectioning, remove all unused sections from the boat with an eyelash
Empty the boat and carefully dry with a filter paper taking care not to touch the knife edge
Remount the diamond knife securely in the ultra microtome knife stage
Take a polystyrene cleaning stick and using an oil-free razor blade, bevel it to an angle of approximately 60°
Dip the rod into 100% ethyl alcohol and shake off the excess
Pass the pointed stick over the diamond knife edge without applying pressure so that it just cuts into the polystyrene. See image to right
Make one sweep across the edge starting just in from one end. NB. It is important not to contact the adjacent cemented areas as this could damage the edge and transfer debris to the cutting edge of the knife
Make a second cleaning pass in the other direction
If necessary repeat the procedure until the edge is clean
After cleaning store the knife in its original box
This method has been used for many years with great success and no evidence of deterioration to the knife edge. It is especially important to clean immediately after sectioning poorly polymerised or soft resin blocks, such as Lowicryl.
Method 2
If you do not feel comfortable using the method described in procedure 1, there is an alternative. Immediately after picking up the sections proceed as follows:
Remove all unused sections with an eyelash
Rinse the knife thoroughly with distilled water
Take a can of clean pressurized air and blow the water from the knife
When dry, store the knife in its original box
If the knife is tended to immediately after sectioning, there is no need for any elaborate cleaning.
Method 3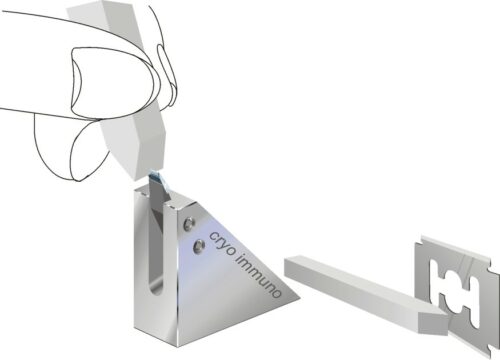 Where sections or debris have been allowed to dry on the knife edge we recommend the following procedure:
Place the knife lying on its side in a shallow Petri dish of distilled water containing one or two drops of mild liquid dishwashing detergent
Leave it to soak overnight
Remove the knife and rinse it with distilled water only
Now proceed to clean the knife using method 1
Store the knife in its original box
Method 4 – for cryo knives
For the cleaning of DiATOME cryo knives you should remove the knife from the cryo chamber (before heating up the chamber)
Rinse the knife under tap water to warm it up
Keeping it wet, proceed to clean using method 1. using a 50% solution of ethyl alcohol in place of 100%
After cleaning carefully dry the knife using a dustblower or canned air
When dry, store the knife in its original box
---