Inert gas storage container (Save-Storr)
Micro to Nano EM-TEC Save-Storr storage containers have been developed to store sensitive specimens under a dry and inert gas atmosphere.
EM-Tec Save-Storr comprise a hinged container with a seal, separate gas inlet and outlet valves and an over-pressure safety valve. The containers can be purged and filled with dry inert gas such as nitrogen or argon to protect moisture and oxygen sensitive specimens. The construction allows vacuum pumping of the EM-Tec Save-Storr container first whilst purging/filling it with inert gas.
For vacuum storage see:
Using inert gas to protect specimens is preferrable for long term safe storage. The gas diffusion rate is lower than with vacuum storage containers due to similar pressures inside and outside the container. EM-Tec Save Storr specimen containers are available in four versions with 1.75, 4.4, 7.1 and 10.5 litre storage capacity.
Key to image labels:
1: Dual locking clasps 2: Clear polycarbonate box 3: Foam seal 4: Gas distribution hose 5: Over pressure safety valve 6: Ball valves 7: Gas inlet connection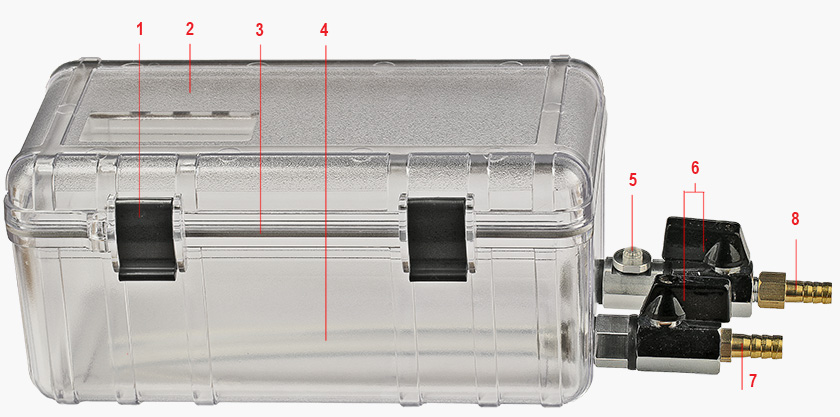 Optional EM-Tec Save-Storr shelves increase the storage area in the Save-Storr 2 container. Made from perforated aluminium sheets with dimensions of 187 x 89mm. The perforated sheets contain 57 holes which enable storage of 57 Ø12.7mm SEM pin stubs with a standard Ø3.2mm (1/8") pin. The gaps at the sides and the perforation ensure adequate gas flow throughout the EM-Tec Save-Storr 2 container.
Left image: 13-001062 Save-Storr 2 single-perforated shelf with 30mm high
Right image: 13-001063 Save-Storr 2 dual-perforated shelf with 2 x 25mm high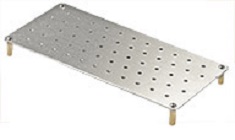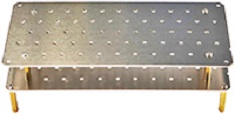 Save-Storr specifications and dimensions
| | | | | |
| --- | --- | --- | --- | --- |
| Parameters | EM-Tec Save-Storr 2 | EM-Tec Save-Storr 4 | EM-Tec Save-Storr 7 | EM-Tec Save-Storr 10 |
| Product number | 13-001060 | 13-001070 | 13-001075 | 13-001080 |
| OD:  L x B x H | 212 x 118 x 101mm | 238 x 184 x 103mm | 325 x 263 x 117mm | 325 x 263 x 169mm |
| ID: L x B x H | 200 x 99 x 89mm | 238 x 184 x 103mm | 303 x 229 x 103mm | 303 x 229 x 151mm |
| Volume (L) | 1.75 | 4.4 | 7.1 | 10.5 |
| Gas inlet / outlet valves | Mini ball valves | Mini ball valves | Mini ball valves | Mini ball valves |
| Gas inlet / outlet connectors | 6mm (1/4") hose barb | 6mm (1/4") hose barb | 6mm (1/4") hose barb | 6mm (1/4") hose barb |
| Material | Polycarbonate | Thick-walled ABS | Thick-walled ABS | Thick-walled ABS |
| Colour | Clear | Black | Black | Black |
| Compatible gases | N2, Ar, CO2 | N2, Ar, CO2 | N2, Ar, CO2 | N2, Ar, CO2 |
| Maximum pressure | 1.5 bar / 0.15Mpa / 150kPa | 1.5 bar / 0.15Mpa / 150kPa | 1.5 bar / 0.15Mpa / 150kPa | 1.5 bar / 0.15Mpa / 150kPa |