Bullseye portable precision vacuum gauges present a new level in portable vacuum measurement. With robust gauges and rugged control units it offers unrivalled flexibility and connectivity. Bullseye Bluetooth-enabled gauges allow monitoring from mobile devices (Android or Apple), alarm settings and the documenting of vacuum data. This lightweight unit is easy to use in the field for on-site measuring but is equally useful as a laboratory or test vacuum gauge. Bullseye precision gauges combine portability, versatility as well as documenting and visual analysis capabilities all in a single instrument. The back-lit LCD display shows the vacuum level numerically of in as a graph. Settings can be easily changed with the front push button control.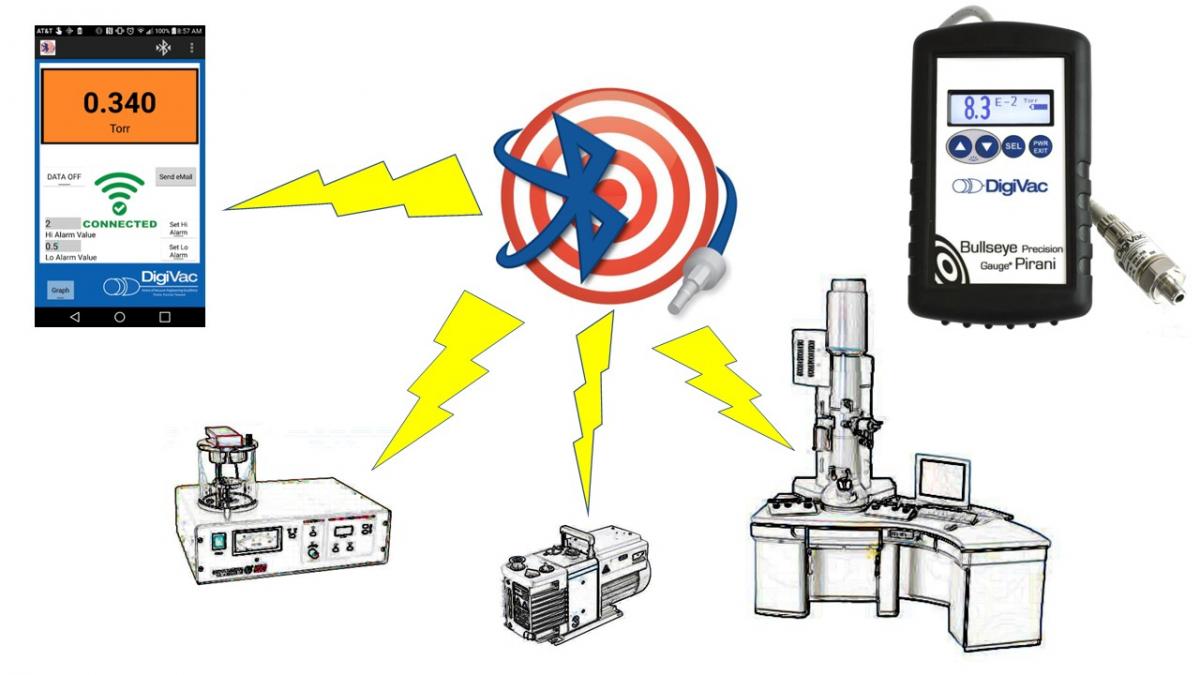 Features – general
Portable, compact and precise

Rugged control unit and robust vacuum sensors

Field calibration routines

Stand and magnetic hook for hands-free operation

Vacuum graphing for leaks, pump down, outgassing and stable systems

Unique, patented vacuum analytics

Long battery life – up to 140/70 hours (Pirani/Thermocouple) or via micro-USB power connection

Choice of four different models
Features – Bluetooth
Direct monitoring or on Android or Apple device

Remote monitoring from your desk – up to 30 metres range

Email vacuum data to document leaks, pump down and performance
Bullseye gauges are available with a choice of vacuum sensors:
Pirani sensor

Increased accuracy over a smaller range

Increased impact resistance

Lower power consumption

Thermocouple sensor

Readily interchangeable

Covers a wider range of vacuum
Application examples
Testing of electron microscopes

Testing of EM preparation instruments, e.g. vacuum coaters, plasma cleaners, cryogenic instruments etc.

Performance testing of laboratory vacuum equipment

Testing and checking  rotary, scroll and diaphragm pumps

Field testing of vacuum in transformers and HVAC equipment

Checking installed vacuum lines

Testing vacuum assemblies

Continuous monitoring of vacuum equipment
Model

Bullseye Pirani-BT

Bullseye TC

Bullseye TC-BT

Product #    1/8"NPT
                      KF25

60-002225

60-002308
60-002325

60-002408
60-002425

Vacuum sensor

Pirani

Thermocouple

Vacuum range

1.3 x 10E-4 to 100mbar

1.3 x 10E-4 to 1050mbar

Units

Torr, mbar, bar, kPa, Pa, PSI, inches of Hg, mm Hg, millitorr, microns, inches of H20, mm of H2O

Torr, mbar, bar, kPa, Pa, PSI, inches of Hg, mm Hg, millitorr, microns, inches of H20, mm of H2O

Precision

0.050-30mbar ± 10%

< 0.01mbar ± 0.002 mbar
0.01-5mbar ± 15%
250-1050mbar ± 25%

Vacuum connection

1/8" NPT male
KF25 flange

1/8" NPT male
KF25 flange

Vacuum reference

Absolute

Absolute

Display

Digital, LDC, back-lit

Digital, LCD, back-lit

Bluetooth enabled

no

yes

no

yes

Power

4 x AA alkaline and micro-USB

4 x AA alkaline and micro-USB

Battery life

Up to 140 hours

Up to 70 hours

Gauge connection cord

3mtr, straight cable

2mtr, coiled cable

Dimensions

160 x 92 x 40mm

160 x 92 x 40mm

Weight

0.9kg

0.9kg

CE certified

yes

yes

Rohs compliant

yes

yes
Bullseye gauges include instant conversion between 12 different vacuum units –  ideal if vacuum performance needs to be checked on older or foreign equipment. Units converted are: Torr, mbar, bar, kPa, Pa, PSI, inches of Hg, mm Hg, millitorr, microns, inches of H20, mm of H2O. 
On stationary vacuum equipment, the Bullseye Bluetooth enabled precision gauge is ideal for replacing older equipment and gives instant remote monitoring and data storage on mobile devices.  In manufacturing environments, technicians can instantly check and document performance of vacuum assemblies and equipment.