The Kleindiek NanoTechnik E5AT eucentric stage is a five-axis positioning tool especially designed to allow tilting of specimens to ±90 degrees, while allowing unlimited rotation of the specimen and keeping the area of interest at the eucentric position.
Kleindiek E5AT eucentric stage:
Five-axis movement around the eucentric point

Highly precise positioning tool

High accuracy with minimal drift

No backlash or reversal play
Applications include:
Electron Channel Contrast Imaging (ECCI)

Electron Backscatter Diffraction (EBSD)

Tomography

Nanofabrication

Any SEM or FIB application that requires eucentric repositioning of specimens
The system comprises a small four-axis substage mounted on a tilting platform. The substage offers a range of 10mm by 10mm in the X and Y directions and 3mm in the Z direction. Additionally, the rotational axis allows unlimited rotation of the specimen through 360 degrees. The tilting platform is fitted with a positional encoder with a resolution of 0.1 degrees.
Brochure download: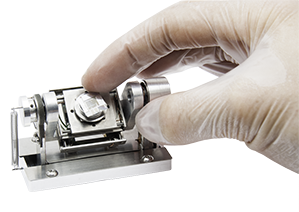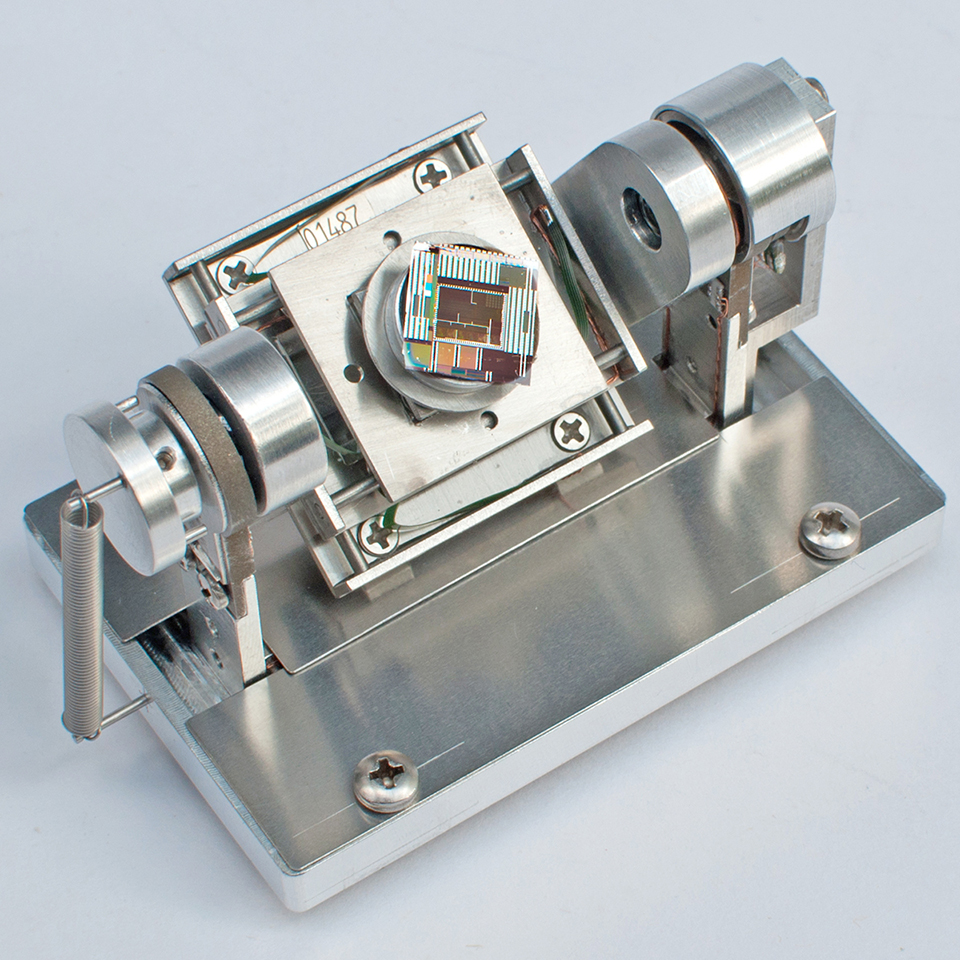 Part number: LT-E5AT-00, LT-E5AT-02
Substage with 10 mm travel in X and Y, 3 mm travel in Z, unlimited travel in R mounted on a tilting platform. The tilting platform allows ±90° tilt and is equipped with an encoder with 0.2° resolution. The system includes control electronics, a joypad, PC software, a vacuum flange, a vacuum feedthrough and an operator's handbook.
Dimensions: Length 72 mm – Width 50 mm – Height 44 mm

Travel: X and Y = 10 mm

Travel: Z = 3 mm

Travel: R = 360 deg (unlimited) – optionally with encoder

Travel: T = +- 90 deg, with encoder

Absolute accuracy: T < 0.2 deg (3×10-3 rad)
Absolute accuracy: R < 0.2 deg (3×10-3 rad), if R-encoder is configured
Repeatablity: T < 0.03 deg (4×10-4 rad)

Resolution: Linear axes < 0.5 nm

Resolution: Rotational axes < 6×10-6 deg (10-7 rad)

Speed: up to 1 mm/s

Resolution: < 0.5 nm

Cartesian movement

Drift < 1.5 nm/min

No backlash or reversal play

Coarse and fine displacement in one drive

Virtually insusceptible to vibrations
All technical specifications are approximate. Due to continuous development, we reserve the right to change specifications without notice.