Micro-Tec oil-less, dry diaphragm vacuum pumps provide a clean vacuum and do not emit any oil vapours. These pumps are maintenance free – no change of vacuum oil change or oil mist filter is needed. They are ideally suited for pumping vacuum containers, desiccators, or small ovens in a laboratory environment. Another useful application is degassing of embedding resins or other mixtures.
These diaphragm vacuum pumps are designed for continuous operation and produce only a modest noise level (<50dB), with soft rubber vibration dampers providing further sound reduction. Other features include pressure gauges, ports and control valves.
There is a choice of two diaphragm vacuum pumps:
Single stage with 30L/min pumping speed and a maximum vacuum level of 150mbar
Dual stage with 60L/min pumping speed and a maximum vacuum level of 50mbar
All pumps are fitted with a valve to adjust the pumping speed and vacuum level – very useful for degassing applications.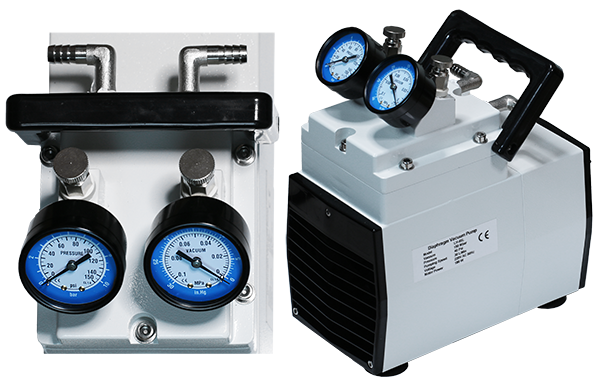 Micro-Tec oil-free diaphragm pumps:
Single and dual stage dry diaphragm vacuum pumps
Integrated vacuum gauge
Model MP850SC with integrated vacuum and pressure gauge
Stable pressure which can be adjusted by a valve
Space saving design with anti-vibration feet
24 hours continuous duty cycle with moderate noise level
Portable
Clean vacuum – no oil vapour
Download: Diaphragm pump data sheet v1
Diaphragm pump specifications
| | | |
| --- | --- | --- |
| Product | Micro-Tec MP850SC | Micro-Tec MP950D |
| Product number | 60-003850 | 60-003950 |
| Maximum vacuum | 15 mbar (-850mbar) | 50mbar (-950mbar) |
| Pumping speed | 30L/min | 60L/min |
| Maximum pressure | 30 psi / 2.1 bar | NA |
| Vacuum gauge | MPa / inches Hg | MPa / inches Hg |
| Pressure gauge | Bar / PSI | NA |
| Stages | One | Two |
| Noise level at vacuum | <50dB | <50dB |
| Valves | 2 x vacuum and at pressure | <50dB |
| Hose connection | 2 x Ø10 mm | Ø10 mm |
| Service temperature | 5-40 °C | 5-40 °C |
| Power requirements | 180W @ 230V/50Hz | 180W @ 230V/50Hz |
| Dimensions (L x W x H) | 250 x 135 x 24mm | 350 x 135 x 240mm |
| Weight | 8Kg | 10.5Kg |