Rotary pump & chiller acoustic boxes overview
silentLab acoustic enclosures for rotary pumps and recirculating chiller / heaters
E
ffective noise reduction for rotary vacuum pumps and water chillers
silentLab acoustic enclosures are especially designed to reduce the noise level generated by vacuum pumps and water chillers used with SEMs, TEMs, FIB-SEMs, sample preparation instruments and other analytical systems.
If it is not possible to locate vacuum pumps and/or the water chiller to a separate room, the noise level generated can be irritating and distracting. Using a silentLab acoustic enclosure will significantly reduce noise to an acceptable level and allow operators to concentrate on the task at hand. silentLab acoustic enclosures are sophisticated and safe soundproofing boxes which are placed over the noisy vacuum pump or water chiller. They facilitate power and vacuum pumping lines, provide cooling and will allow vacuum pumps or water chillers operate at their full specifications.
silentLab models 4, 6 and 7 were originally designed for SEMs, TEMs and FIB-SEM systems, but they are equally useful for other systems with noisy rotary vacuum pumps. silentLab 3 has been specifically designed for smaller pumps used with SEM sputter coaters, EM carbon coaters, RF plasma etcher/asher/cleaners and vacuum ovens. silentLab 5 is intended for analytical systems with larger noisy rotary vacuum pumps.
 

silentLab noise reduction enclosures features:
Noise reduction approximately 15dB to 12dB, depending on type
Robust all-metal construction with high performance acoustic foam
Acoustic foam with optimised pattern to reduce low frequency noise
IEC mains connectors with fuse for easy installation
Fans are only switched on when the rotary pump is running
Sophisticated air flow system with low noise high capacity fans
Integrated digital thermometer
Top lid for easy service access
Powder-coated oil and water resistant surface
Flammability rating to DIN 75200 / FMVSS 302
Internal KF25 installation kit included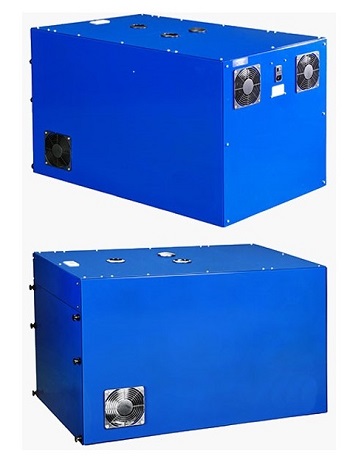 silentLab specifications and selection guide
Model

silentLab 3

silentLab 4

silentLab 5

silentLab 6

silentLab 7

Noise reduction
12dB
15dB
15dB
12dB
12dB
Designed for
Small rotary pump

Single rotary pump
Large single rotary pump
Two rotary pumps
Water chiller
Compatible with
(similar to)
Pfeiffer UNO 5
Pfeiffer DUO 5
Edwards RV5

Alcatel BB2002

Edwards E2M1.5

Edwards RV12 / RV18
Edwards XDS10 / nXDS10
Adixen/Varian/Agilent2010L
Edwards E2M28
Adixen 2033SD
Pfeiffer DUO 20M
2 x Edwards RV12
2 x Adixen 2010L
V.d. Heyden 004
Fans
2
2
2
4
4
Voltage
230/115V
230V / 115V
230V / 115V
230V / 115V
230V / 115V
Power rating
Fused 2300W
Fused 2300W
Fused 2300W
Fused 2300W
Fused 2300W
Power connections
IEC sockets
IEC sockets
IEC sockets
IEC sockets
IEC sockets
Outside dimensions
350 x 400 x 600mm
500 x 500 x 800mm
500 x 500 x 900mm
500 x 500 x 800mm
800 x 900 x 850mm
Inside dimensions
250 x 350 x 500mm
400 x 450 x 700mm
400 x 450 x 800mm
440 x 450 x 740mm
530 x 580 x 740mm
Weight
16kg
20kg
23kg
20kg
35kg
Product #
60-001030 (230V)
60-001031 (115V)
60-001040 (230V)

60-001041 (115V)

60-001050 (230V)

60-001051 (115V)

60-001060 (230V)
60-001061 (115V)
60-001070 (230V)

60-001071 (115V)