Micro to Nano Micro-Tec wafer carrier trays are specifically designed to ship, transport or store semiconductor wafers. Primarily designed to hold thin silicon wafers, but equally suitable for glass, quartz, sapphire, GaAs and other thin, round wafers in sizes from Ø1" to 6" or Ø25 to 150mm.
These wafer carriers, also known as coin shippers, comprise three parts: base, spider spring and locking cap. The inside of the base is concave to ensure that the wafers are held at the edges only. The spider spring holds the wafer in place once the cap is locked to the base.  Available in sizes of 1" to 6" or equivalent 25 to 150mm diameter.
Wafer carrier trays are available in a choice of two materials:
Sturdy, translucent, natural polypropylene
Anti-static, opaque, black (carbon filled) polypropylene – ESD safe and protects from light exposure. Surface resistivity 10E4 – 10E5 Ω/cm2, volume resistivity 10E4 Ω/cm
All wafer carrier trays are available  in packs of five.
Specifications
| | | | |
| --- | --- | --- | --- |
| Product # | Wafer size | Dimensions | Material |
| 10-008191 | 1" / 25mm | Ø33 x 10mm | Natural translucent PP |
| 10-008192 | 2" / 51mm | Ø60 x 11mm | Natural translucent PP |
| 10-008193 | 3" / 76mm | Ø84 x 11mm | Natural translucent PP |
| 10-008194 | 4" / 100mm | Ø110 x 11mm | Natural translucent PP |
| 10-008196 | 6" / 150mm | Ø160 x 11mm | Natural translucent PP |
| 10-008181 | 1" / 25mm | Ø33 x 10mm | Anti-static, black PP |
| 10-008182 | 2" / 51mm | Ø60 x 11mm | Anti-static, black PP |
| 10-008183 | 3" / 76mm | Ø84 x 11mm | Anti-static, black PP |
| 10-008184 | 4" / 100mm | Ø110 x 11mm | Anti-static, black PP |
| 10-008186 | 6" / 150mm | Ø160 x 11mm | Anti-static, black PP |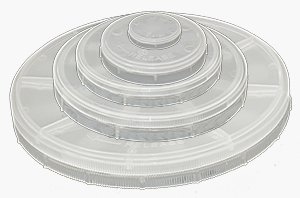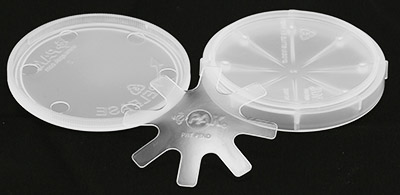 Open wafer trays – translucent