Metal wire for thermal evaporation
TEM-Tec high purity wire is suitable for vacuum coating of EM samples and other thermal evaporation applications. The wire can be easily cut to size and used in evaporation coils, boats or filaments. The small amount of material and the relatively large contact area with the evaporation sources enables evaporation with low power evaporation power supplies.
For TEM shadowing applications the thin metal wire can be wound around the end carbon rods to simultaneously evaporate metal and carbon.
Due to their high melting temperature, tungsten wire can also be used to make evaporation filaments to evaporate small amounts of other metals.
For evaporation crucibles and baskets, see: crucible-style evaporation baskets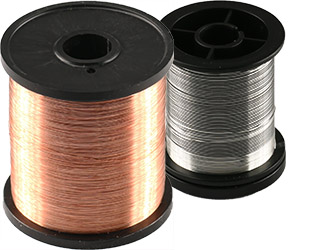 Available evaporation wire
| | | | |
| --- | --- | --- | --- |
| Material | Symbol | Wire diameter | Purity |
| Aluminium | Al | 0.5 mm | 99.9 % |
| Copper | Cu | 0.2 mm | 99.9% |
| Nichrome 60, 60/16/24 wt% Ni/Cr/Fe | Ni / Cr / Fe | 0.25 mm | 99.5% |
| Nichrome 80, 80/20 wt% Ni/Cr | Ni / Cr | 0.25 mm | 99.5% |
| Silver | Ag | 0.2 mm | 99.99% |
| Tungsten | W | 0.1 / 0.2 / 0.5 mm | 99.95% |