DiATOME diamond knife resharpening
As a user of DiATOME diamond knives you will be pleased to know that all types and ages of DiATOME knives can be resharpened multiple times.
DiATOME's advanced resharpening techniques ensures you will never lose diamond length when the knife is resharpened.
All resharpened knives undergo the same stringent optical checking and sectioning test as new knives.
 DiATOME are the only manufacturer who guarantee that after resharpening, the knife will have the same flawless quality as the knife you originally purchased.
Every DiATOME diamond knife, whether new or resharpened, is supplied with a certificate (see below left) showing the serial number, knife length, type, knife angle, recommended clearance angle, recommended maximum speed for sectioning, the signature of the checker and the date.
---
Diamond knife resharpening – how it works: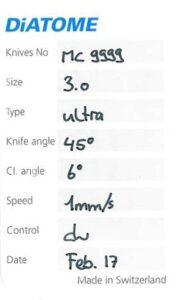 1. Please ask us for a quotation for resharpening your DiATOME diamond knife stating the type and length of the knife edge. If you are unsure of the length this is shown on the certificate which can usually be found in the base of your DiATOME diamond knife storage box.
2. Place a formal purchase order with us for the resharpening as per your quotation
3. We will then provide you with an order confirmation and returns authorisation number to include with the returning knife
4. Return the knife to us with the returns authorisation number. We recommend you use a service that provides tracking of your parcel. We strive to get your knife resharpened and returned to you in the shortest time possible.
Please return your knife for resharpening to:
Labtech International Limited  Mytogen House, 11 Browning Road, Heathfield, East Sussex, TN21 8DB, United Kingdom.
Please use the contact form to email your request to us with the following information about your diamond knife
Type of knife: eg ultra45, ultra35, cryo, histo
Length of knife edge: this is important to determine the cost of resharpening eg. 2mm, 3mm, 4mm