Sticky cleaning swabs – ESD safe
Micro-Tec ESD safe sticky cleaning swabs are specially designed to remove particles from sensitive or delicate surfaces. Anti-static treatment of the plastic handles dissipates electrostatic charges, making them suitable for cleaning electrostatic sensitive components. The tips of Micro-Tec ESD safe sticky cleaning swabs are coated with soft absorbent gel which picks up particles. Sticky cleaning swabs can be used for the removal of contaminating particles – not displacing them and not causing cross-contamination.
Applications include removing particles, lint, debris from hard or difficult to reach areas, cleaning optical devices, removing particles from surfaces, cleaning components and for removing contaminating particles.
Micro-Tec ESD safe sticky cleaning swabs are available in three sizes (Ø1mm, Ø2mm and Ø3mm heads) and are sold ready-to-use in boxes of 10 and 25.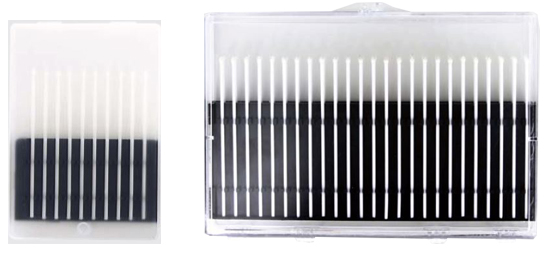 Removes particles rather than displace them

ESD safe to avoid static discharges

Suitable for static-sensitive products

Cleaning room compatible (class 10-100)

Soft gel absorbent, non-scratching tip

Does not leave adhesive residues

Does not release particles
Instructions for use
Ensure a clean work area and select the correct size sticky cleaning swab.
Use tweezers to remove the sticky cleaning swab from the tray. Avoid touching other swabs to prevent cross-contamination.
For best result, use swabs at an angle of 60-90 degrees.
Lightly touch particulates to be removed – use minimal force (about 10g) to avoid damaging sensitive surfaces.
Do not wipe sticky cleaning swabs.
To prevent secondary contamination please do not re-use sticky cleaning swabs
Remove used sticky cleaning swabs from work area.
Note: Do not expose sticky cleaning swabs to temperatures above 30°C (85°F). Store in a cool, dark place and avoid prolonged exposure to direct sunlight.