Scribers – diamond and tungsten tipped
These high-quality Micro to Nano scribing tools are useful for marking, engraving and scribing samples, tools and specimen substrates. They are available with either a sharp tungsten carbide tip or with diamond tips in various tip angles and styles.
The natural diamond tip base sizes are approximately 0.8mm in diameter and vacuum brazed on a tool steel shaft. Scribers can be used to make fine lines on a wide variety of materials ranging from glass, ceramics, silicon, metals and plastics. They are also ideal for scribing silicon wafers prior to cleaving.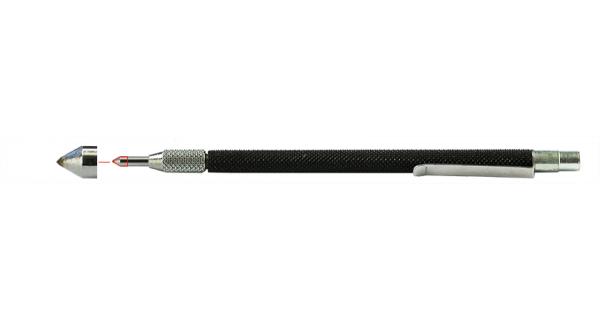 Diamond scribing tool specifications 
| | | | | | |
| --- | --- | --- | --- | --- | --- |
| Product # | Style | Tip | Tip angle | Type | Length |
| 52-001099 | Value-Tec CS1 | Tungsten carbide | 45 degrees | Knurled handle | 150mm |
| 52-002012 | Micro-Tec DS2 | Diamond | 60 degrees | Knurled handle | 150mm |
| 52-002014 | Micro-Tec DS4 | Diamond | 90 degrees | Knurled handle | 150mm |
| 52-002016 | Micro-Tec DS5 | Diamond | 120 degrees | Retractable pen | 140mm |