EM-Tec knitted nylon gloves are intended for the clean handling of sensitive parts, optics, and assemblies without leaving fingerprints. Useful for handling parts for SEM, TEM, FIB or high vacuum systems. The knitted nylon fabric is more comfortable than nitrile or latex gloves. They can be used multiple times and have low particle shedding. The fabric is stretchable, and the gloves are supplied as one-size-fits-all with an elastic cuff. They are ambidextrous. Colour is white and sold as one pair.
 

Knitted nylon fabric

Comfortable wearing

Cleaner than cotton gloves

One-size-fits-all

Ambidextrous

Elastic cuff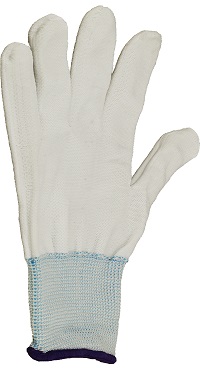 EM-Tec ESD (electrostatic discharge) safe polyurethane coated nylon gloves are suitable for longer wearing periods and protect better against contamination. These finely knitted nylon gloves are coated with a thin layer of ESD-safe polyurethane on the inside (palm and fingers). They also offer puncture and abrasion resistance with a breathable back for comfort. Polyurethane coated nylon gloves are a superior alternative for pseudo-leather gloves. An anti-static polyurethane coating makes these gloves ESD safe. Available in sizes medium and large. Colour is white and sold as one pair.
Knitted nylon fabric with PU coating

Low particle shedding

ESD safe

Comfortable wearing

Size: medium and large

Elastic cuff