Value VRI series dual stage rotary vacuum pumps
The Value VRI series of compact and lightweight dual stage rotary vacuum pumps are designed for a wide range of laboratory, R&D and production vacuum applications. The VRI series include an integrated solenoid valve to prevent oil suck-back when the pump is switched off. The built-in forced oil lubrication pump ensures stable and reliable operation whilst maintaining high pumping speeds. Available in three sizes with 2, 4 and 8m3/hr pumping speeds. They offer high quality, great specifications combined with affordable pricing.
The applications of Value VRI-series of vacuum pumps include sputter/carbon coating systems, laboratory vacuum equipment, degassing systems, vacuum desiccators, vacuum moulding systems, vacuum chucks, vacuum ovens, freeze dry/vacuum packaging and as backing pumps for high vacuum systems.
Features of  Value VRI-Series pumps
Integrated solenoid shut-off valve to prevent oil suck-back

Forced oil lubrication ensures stable and reliable operation

Ultimate vacuum 10-2 mbar

Available with 2, 4 or 8 m3/hr pumping speeds

Space saving design with anti-vibration feet

Compact, portable and lightweight
Download: Value VRI pump brochure v1
For Edwards dry scroll and rotary pumps click here
Specifications of Value VRI-Series dual stage rotary pumps
Model
Value VRI-2
Value VRI-4
Value VRI-8
Product number
60-004020
60-004040
60-004080
Pumping speed
2 m3/hr
0.55 L/sec
4 m3/hr
1.1 L/sec
8 m3/hr
2.2 L/Sec
Ultimate Vacuum

3 x 10-2  mbar (3 Pa)

Vacuum inlet

KF 16

KF16

KF25

Exhaust

KF 16

KF16

KF25

Solenoid valve

yes

Stages

2

Service temperature

5 – 40 °C

Noise level at vacuum
<62dB
<62dB
<65dB
Oil capacity
0.2L
0.3L
0.5L
Oil type

P3 vacuum oil

Motor speed

1440 rpm

Power requirements
250W/230V/50Hz
370W/230V/50Hz
550W/230V/50Hz
Dimensions (L x W x H)
318x124x234 mm
337x138x244 mm
395x145x257 mm
Weight
9 kg
11 kg
17 kg
Service-Kit
60-004022
60-004042
60-004082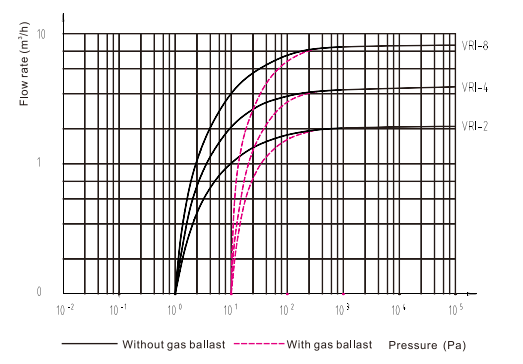 EM-Tec oil mist filters for rotary vacuum pumps
EM-Tec oil mist filter are useful for eliminating or reducing oil mist emitted by single or dual stage rotary vacuum pumps. They can be used with Value VRI pumps with a capacity ranging from 2 – 8 m3/hr. They are also compatible with other rotary vacuum pumps which are used for lab equipment such as SEMs, mass spectrometers, sputter coaters, small vacuum ovens and drying systems. They are equipped with cartridges which can be replaced as needed. For easy connection they comprise KF/NW 16 or KF/NW 25 standard vacuum flanges.
EM-Tec oil anti-vibration pads for rotary vacuum pumps
TEM-Tec anti-vibration pads are made from  two layers of NBR rubber; 2mm thick solid NBR rubber attached to 1 mm thick closed-cell foam rubber for optimum dampening result. These pads can be used for table-top and floor-standing rotary vacuum pumps. . They are available in two sizes:
300 x 150 x 14mm (LxWxH) for smaller vacuum pumps such as Value VRI pumps
380 x 200 x 14mm (LxWxH) for larger rotary vacuum pumps