Universal laboratory vice with bench clamp
The EM-Tec 3-360 universal laboratory vice is ideal for a range of specimen preparation and specimen examination tasks. Examples include cutting off parts to reduce sample size or for positioning of samples for a stereo microscope with boom stand.
The clamping width is 75mm with a maximum clamping opening of 50mm. Included are protective rubber vice sleeves to minimise surface damage and for handling delicate samples. The EM-Tec 3-360 universal laboratory vice can be easily clamped to laboratory tables or benches up to 60mm in thickness. Integrated protective rubber pads avoid damaging of the table or bench top. A full 360 degrees rotation allows for optimum positioning. 45 and 90 degree tilting enables accurate cross-cutting and/or angled views.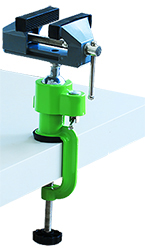 Specifications of EM-Tec 3-360 universal laboratory vice with bench clamp 
| | |
| --- | --- |
| Product number | 52-003200 |
| Vice clamp width | 75mm |
| Maximum vice clamp opening | 50mm |
| Rotation | 360 degrees |
| Tilt | One side -45 degrees; opposite side -90 degrees |
| Materials | Die cast zinc alloy/steel /protective rubber |
| Maximum bench thickness | 60 mm |
| Height above bench | 170 mm |
| Total height | 330 mm |