Tergeo-EM is a unique design of plasma cleaner and a truly versatile instrument for EM laboratory plasma cleaning and surface modification applications. It incorporates two plasma sources to enable both immersion and downstream plasma cleaning modes in one compact instrument.
Tergeo-EM is optimised for gentle and controlled hydrophobic-hydrophilic conversion of TEM carbon support films as well as TEM rod cleaning and SEM specimen and holder cleaning.
The large quartz specimen chamber can accommodate a TEM grid holder as well auto loader cassettes for cryo-TEM and other samples for batch cleaning. The front loading window is equipped with dual TEM rod adaptors to enable the cleaning of two TEM specimen holder rods of any specified brand.
TEM rod adaptors – for cleaning two TEM rod holders in-vacuo
Unique TEM grid holder – efficient and reliable hydrophilic conversion of carbon support films
Intuitive touchscreen operation – quick selection and running of recipes
Direct immersion and indirect downstream plasma modes – process exactly matched to application
Pulsed plasma and adjustable power output for optimal process control
Unique plasma sensing for unsurpassed control of the plasma process
Precise sensing of pressure and gas flow for reproducible process control
Adaptable design – for cleaning, etching, ashing and surface modification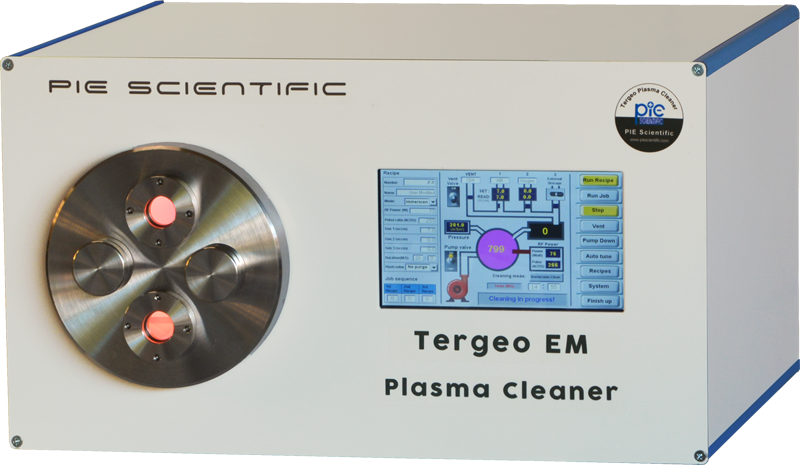 Tergeo-EM downstream (indirect) mode
Combined with  pulsed plasma downstream mode provides a gentle processing method for delicate specimens with thin coatings, such as TEM holey carbonsupport grids, heat and ESD sensitive devices, graphene, etc.  It significantly reduces specimen heating and ion sputtering that is found in traditional direct mode plasma systems.
With remote downstream mode the plasma generation takes place inside a remote chamber located to the side of the main chamber. In this mode only neutral, lower energy radical species can diffuse into the main chamber and react with specimens. This ensures there is no ion sputtering damage to delicate specimens. For TEM cleaning applications air or an argon/oxygen mixture (80/20%) is typically used.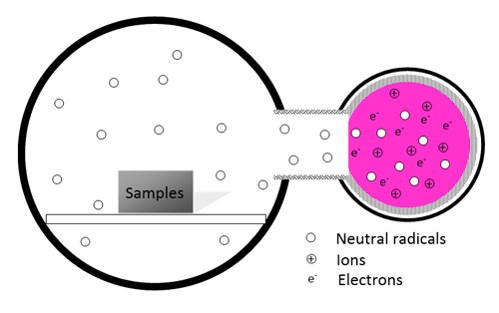 Tergeo-EM immersion (direct) mode
Can be used for high-speed specimen cleaning, such as heavily contaminated SEM and TEM specimens and holders.
Uniquely, Tergeo-EM has two integrated RF plasma sources in one instrument . When the plasma is generated inside the main specimen chamber, it is referred to as immersion mode processing and specimens are subject to both energetic ion bombardment and chemical reactions with neutral radical species. Immersion mode processing is required for high-speed etching and surface cleaning.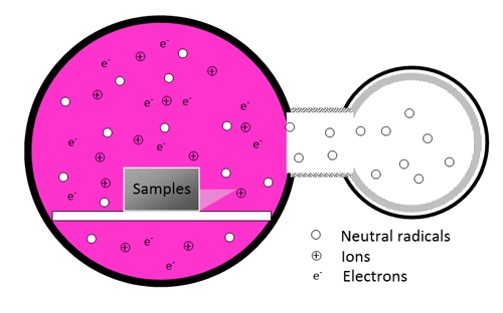 Fast, gentle cleaning of TEM holders, grids and specimens
Tergeo-EM is designed for TEM specimen cleaning applications. The chamber cover will accept two TEM specimen rods from all TEM manufacturers. The chamber door has two viewing ports for the optimal process observation.
Tergeo-EM plasma cleaner is flexible and also used for cleaning SEM specimen stubs, holders and gun parts, which are placed on an internal quartz plate for processing.
1. Large quartz specimen chamber. ID: 110mm, depth: 280mm
2. Front door locking groove ensures the door is firmly locked in place during operation
3. Quartz specimen shelf with holes for SEM pin stubs
4. Front door can easily be removed for access to the specimen chamber
5. Two TEM specimen rods can be cleaned at once – simply remove the caps and insert the TEM rods
6. TEM grid holder option (see opposite)
The optional TEM grid holder can accommodate up to 20 TEM grids per holder and allows the plasma to circulate all around both sides of the grids for optimal processing. Up to five TEM grid holders can be placed directly on the quartz shelf, allowing up to 100 grids can be processed at one time.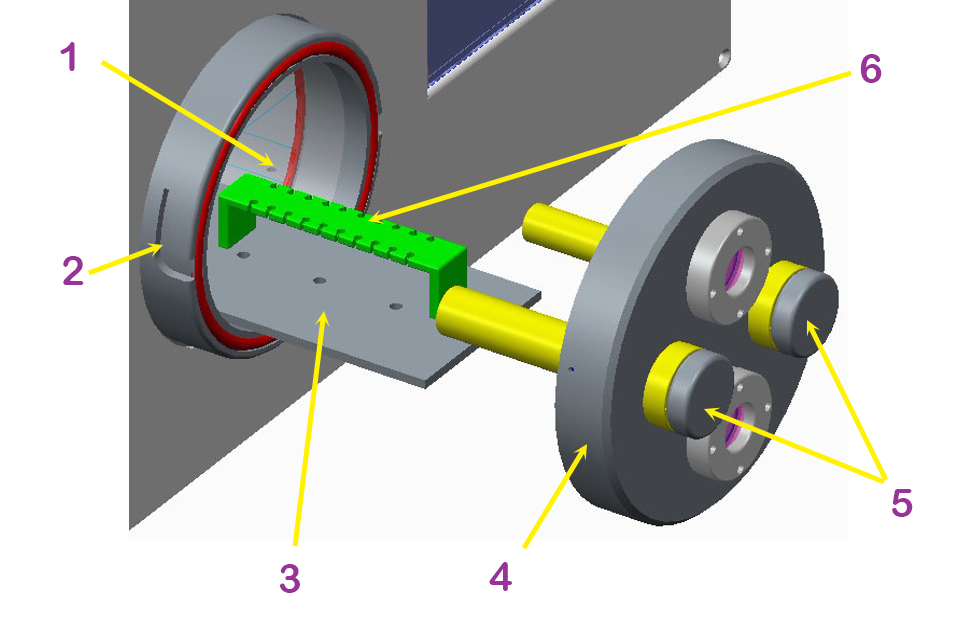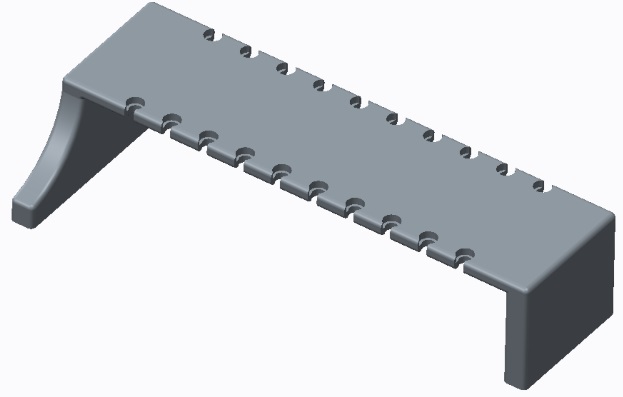 High performance plasma cleaning
Tergeo-EM has been chosen for electron microscopy applications, including for cryo-TEM by universities and national laboratories, such as Caltech, NIH, Harvard, Institute of Cancer Research, UC-Berkeley, NIST, NPL, UKAEA, Universities of Liverpool, Leeds, London and Sussex.
For other instruments in the Tergeo range of plasma cleaners please see here.
At the heart of Tergeo-EM is multiple process control technology which monitors and controls critical parameters such as pressure, plasma strength and mass flow control of gas input. Operation is fully automatic with an intuitive user interface featuring a 7″ touch screen which makes operation as easy as a tablet device. The embedded microcontroller supports up to 20 customisable user recipes.
A key advantage of the Tergeo-EM is the integrated, patent-pending RF plasma sensing technology. Plasma strength is measured quantitatively and displayed in real time. The operator can use the plasma strength data as feedback to adjust gas flow rates and RF power to give desired cleaning speeds – ensuring repeatable and consistent results for users with beginner or expert levels of experience
Downstream cleaning recipe example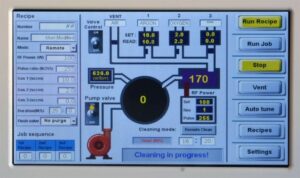 Immersion cleaning recipe example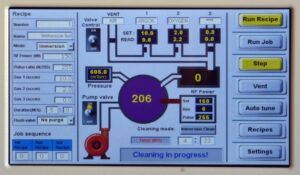 RF Power Tergeo-EM has two power options: 0-75W and an upgrade to 0-150W, 13.56mHz high frequency RF power with automatic impedance matching of in-situ plasma source.
Two process modes Dual plasma source: Immersion (direct) plasma for high-speed cleaning, etching and surface modification. Remote (indirect) plasma for gentle surface contamination removal and hydrophobic-hydrophilic conversion of TEM carbon support films
Pulsed plasma  Continuous or pulsed plasma, cycle time: 2ms. Pulse ratio: 0.4% to 100%. Controlled by setting the duty ratio (0-255) to generate plasma with average RF power down to less than 0.25W
Automatic plasma strength sensor technology (patent pending)  Monitors both direct and remote plasma sources. Plasma strengths are monitored and displayed in real-time on the central display
Automatic sensing and process control  For pressure, temperature, gas-flow rates and plasma strength. With automatic impedance matching
Operating pressure  0.007-1.33mbar
Pumping  A dry scroll pump is typically used to run Tergeo-EM. Other existing pumps can also be used.
Vacuum gauge  Premium corrosion-resistant pressure sensor
Process gas control Two mass flow controllers (MFC) for controlled gas flow (0~100sccm) fitted as standard. ¼ inch Swagelok compression fitting connectors. A third MFC is optional (see accessories)
Plasma chamber door with rod adaptors  Accepts two TEM rod holders (of your choice). The door has two quartz observation windows to allow viewing of the chamber and plasma colour
Quartz chamber door and shelf  ID: 110mm, depth: 280mm. Includes a quartz specimen shelf
Port for venting and purging With clean dry air or other gases
Graphical user interface With easy to use 7" resistive touchscreen, up to 20 customisable recipes, setting of all key process parameters and help menu.
Dimensions  450mm (W) x 250mm (H) x 430mm (D) excluding vacuum pump
Electrical requirements  AC power 100~230V, 50/60Hz.The applicable European Community requirements for product safety are specified in EMC Directive 2004/108/EC and the Low Voltage Directive 2006/95/EC.
Remote diagnostics  Remote online support and diagnostics. Tergeo-EM has a "Serial to PC" port for control from a PC user interface through RS232 communication port.
Warranty Two years
PIE Scientific specialise in developing advanced plasma systems for plasma etching, cleaning, surface treatment, ion and electron beam production applications. The company was founded by alumni of the Plasma and Ion Source Technology group in the Lawrence Berkeley National Laboratory. After 15 years of experience in developing advanced semiconductor capital equipment in Silicon Valley, they realised that many existing low-cost plasma cleaners and plasma treatment systems were still using decades-old technology. Therefore, they decided to bring state-of-the-art plasma technology developed for the semiconductor industry and nuclear research into affordable plasma instruments. Their SmartClean™ technology has been well-received by customers.
Tergeo-EM main instrument
To configure a working Tergeo-EM system please add the base unit and pump to your quote and then add any other accessories from the list of options below: