SEM specimen sampling kits
EM-Tec SEM specimen sampling kits from Micro to Nano are ideal for collecting powders, fibres, fragments, small particles, etc., for SEM/EDS analysis with reduced risk of cross contamination.
EM-Tec SEM specimen sampling kits comprise a pin stub, a mounted EM-Tec high purity adhesive carbon tab all in an self-contained storage tube. Each SEM pin stub with a mounted carbon tab is firmly held in the cap of the storage tube. The carbon tab is protected against contamination with a protective foil which is removed just before use.
EM-Tec SEM sampling kits are well suited for:
Asbestos analysis

Environmental and forensic sampling

Collection of fibres

Particle sampling

Collection of paint chips or glass fragments

Collection of filter residues

Powder samples

Gunshot residue (GSR) collection
Collection of samples is best done with the pin stub still in the plastic cap – remove the protective plastic cover from the adhesive tabs just before use. After collection of your sample replace the clear tube cover. For a contamination-free workflow it is highly recommended to use the specifically designed EM-Tec SEM stub handling tweezers for placing the pin stubs in the SEM specimen holder.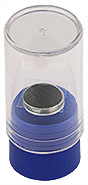 | | | | | | | |
| --- | --- | --- | --- | --- | --- | --- |
| Product # | Type | Capacity | Stub Ø | Stor. tube | Tab type / Ø | Pin length |
| 15-008201 | EM-Tec FS1 | Single | 12.7mm | EM-tec SB2 | Carbon / 12mm | Standard 9.5mm |
| 15-008212 | EM-Tec FS12 | Box / 10 | 12.7mm | EM-tec SB2 | Carbon / 12mm | Standard 9.5mm |
| 15-008202 | EM-Tec FS2 | Single | 25.4mm | EM-Tec SB3 | Carbon / 25mm | Standard 9.5mm |
| 15-008225 | EM-Tec FS25 | Box/10 | 25.4mm | EM-Tec SB3 | Carbon / 25mm | Standard 9.5mm |