Blue PVC surface protection tape
Single sided blue transparent PVC surface protection tape
consists of a PVC film with an acrylic adhesive. The tape is self-wound without a liner.
Advantages of blue transparent PVC surface protection tape:
Low tack for easy removal
Leaves clean surfaces without residue
Easy to reposition
Ideal for temporary applications
No damage on painted surfaces
Anti-aging and corrosion resistant
The low adhesive strength of this acrylic based adhesive makes tape removal easy and leaves clean surfaces without a residue. Ideal for applications such as taping notes on instruments and sealing of specimens boxes.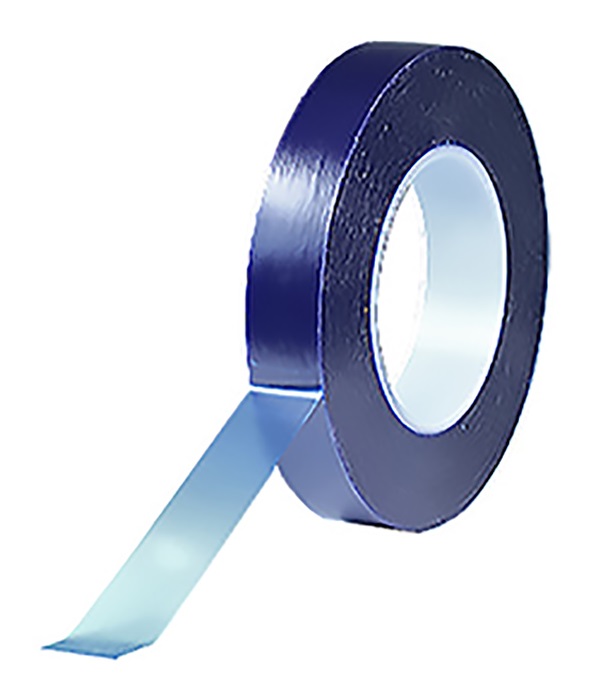 Applications
Surface protection
Glass protection
Transport protection
Masking for metal plating and spraying
Temporary tape
Repositionable tape
Electrical insulation
Available in widths from 10 to 100mm with a length of 100m. Clean 76mm diameter plastic core.
Specifications
| | |
| --- | --- |
| Tape material | PVC |
| Colour | Blue transparent |
| Adhesive | Acrylic |
| Film thickness | 0.06 mm |
| Adhesive thickness | 0.04 mm |
| Total thickness | 0.1 mm |
| Adhesive strength | 3N/25 mm |
| Elongation | Max. 150% |
| Dielectric strength | 600 V |
| Temperature use range | 15 to 60 °C |
| Max. temperature | 80°C / 30 minutes |
| Length | 100m |
| Core diameter | 76mm (3") |