CHT37 high temperature conductive carbon paste
EM-Tec CHT37 is a unique carbon-filled inorganic silicate adhesive, especially developed for high temperature applications up to 2000°C. Fine graphite flakes are completely mixed with a water-based silicate solution. It is a single component system without any volatile organic components (VOCs). EM-Tec CHT-37 is ideal for use with heating stages used in systems such as SEM, FIB, SIMS, AUGER or XPS (ESCA). It is also suitable for heating experiments and high vacuum applications where electrical and thermal conductivity are required.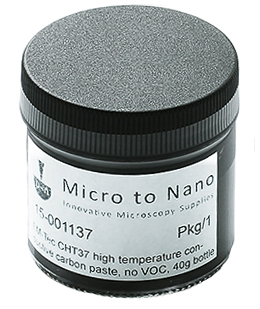 Features of EM-Tec CHT37 high temperature conductive carbon paste

:
High service (use) temperature – up to 2000°C.
Inorganic silicate solution with graphite – no hydrocarbons, no VOCs and suitable for UHV applications
Single component system – no mixing required
Electrically and thermally conductive
Low temperature capability after curing – It can be used at cryo temperatures, but bond integrity depends on thermal expansion coefficient of the different materials
Thick paste (20,000-30,000 cP) – viscosity can be reduced by adding water
Applications and curing
Mix the EM-Tec CHT37 paste thoroughly before application. Abrade and clean surfaces before applying the adhesive. Apply a 50 to 200um glue line for best results. Viscosity can be adjusted by adding a small percentage of water to a maximum of no more than 10%. Apply pressure or clamp if possible – good mechanical strength can be achieved in a few minutes at room temperature. Remove excess material before drying or curing. The adhesive must be cured for use at high temperatures or cryo temperatures.
Curing schedule is:
Air dry at room temperature for 2-4 hours.
Cure for two hours at 93°C and then for two hours at 260°C to achieve full cure.
Strength improves with increasing temperature and becomes almost insoluble after the second curing step. Blistering may occur if the glue line is too thick or heating too rapid.
Safety data sheet: SDS15-001137 CHT37 high temperature carbon filled cement
Specifications of EM-Tec CHT37 conductive high temperature carbon paste
| | |
| --- | --- |
| Product number | 15-001137 |
| Filler type | Graphite |
| Wt% | 30 % |
| Consistancy | Thick paste |
| Resistance | 6.5 Ω/sq/25um |
| Thermal conductivity | 1 W/m°K |
| Binder | Inorganic silicate |
| Solvent | Water |
| Density | 1.40 – 1.50gcm3 |
| Touch dry | Five minutes |
| Curing schedule | 2 hrs @ 93°C + 2 hrs @ 260°C |
| Maximum temperature | 2000°C |
| Minimum temperature | -196°C |
| Mechanical strength | Moderate |
| Vacuum compatible (cured) | Excellent |
| RoHs compliant | Yes |
| Viscosity | 20,000 – 30,000cP |
| Weight | 40g |
| Container size | 30cc |
| Thinner/extender | Water |
| Shelf life | 6-12 months |