Conductive paints, pastes and cements
Conductive paints and adhesives are indispensable for SEM and FIB specimen preparation and specimen mounting. They enable quick specimen mounting and deliver the conductivity needed for SEM and FIB applications.
EM-Tec conductive paints and cements from Micro to Nano are specially selected for specimen preparation use in electron microscopy, focused ion beam, electron microprobe and scanning probe applications. EM-Tec conductive paints, pastes and cements offer different properties to cover a variety of applications.
Conductive paint and adhesives are ideal to make conductive paths to ground for SEM specimens. Used for making contacts, conductive bonding of specimens on specimen stubs or shielding surfaces of non-conducting specimens. EM-Tec conductive paint and cements are used for many applications besides electron microscopy in repairing contacts, tracks on circuit boards, prototyping, conductive lubrication, electrochemical plating and EMI/RFI shielding. EM-Tec C30 premium water based conductive carbon paint is solvent free and should be preferred to avoid hydro-carbon contamination in the SEM.
EM-Tec conductive silver epoxies enable embedding and cementing specimens and parts providing high conductivity and good mechanical strength. When the epoxy is cured, the specimen can undergo further preparation steps such as polishing, lapping, thinning, etc. Epoxies are not suitable for soldering, but create conductive contact.  EM-Tec silver filled epoxies are a two component system supplied in two syringes. To improve conductivity and to make mixing easy, both components are silver loaded. The amounts of the EM-Tec silver epoxy sets are chosen for affordability, yet sufficient for experiments, specimen preparation and prototyping.
Please also see our range of:
High purity conductive double sided adhesive carbon tabs and tapes
Super smooth carbon tabs and tapes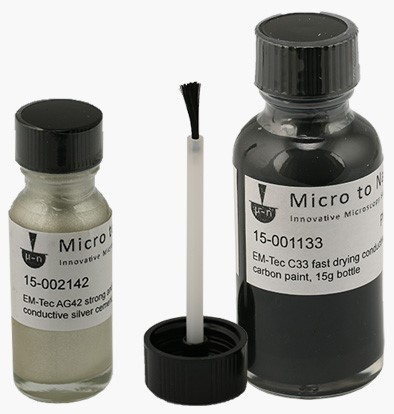 For each paint we have specifications and SDS available for download. See adjacent tabs
Paint / Cement

EM-Tec
C30

EM-Tec
C32

EM-Tec
C33

EM-Tec
C38

EM-Tec
AG15

EM-Tec AG42

EM-Tec AG44

EM-Tec AG46

EM-Tec
AC29

EM-Tec
NI41

Product #
15-001130
15-001132
15-001133
15-001138
15-002114
15-002115
15-002141
15-002142
15-002143
15-002144
15-002145
15-002146
15-002129
15-004141

Filler Type

wt%

Graphite 20%

Graphite

10%

Graphite

10%

Carbon

15%

Silver

58%

Silver

73%

Silver

61%

Silver

60%

Copper / Silver

31%

Nickel

50%

Type
thin paste
thin paste
thin paint
thin paste
paint
thin paste
thin paste
paint
thin paint
thin paste
Resistance (dry)
30 ohm/sq
30 ohm/sq
1200 ohm/sq
50 ohm/sq
0.015 ohm/sq
0.01 ohm/sq
0.01 ohm/sq
0.01 ohm/sq
0.015 ohm/sq
0.7 ohm/sq
Binder

gel

gel
polymer
acrylic
thermoplastic resin
acrylic
acrylic
urethane
acrylic
acrylic
Solvent

water

water
Isopropanol
Acetone/

 

MEK
MEK
Toluene
/acetone
Acetone
Water
Acetone
Toluene/
acetone
Density
1.12g/cm3
1.08g/cm3
0.84g/cm3
0.85g/cm3
1.63g/cm3
2.05g/cm3
1.7g/cm3
1.5g/cm3
1.1g/cm3
2.1g/cm3
Touch dry

5 min

5 min
2-3 min
3min
10min
5min
3min
5min
3min
5min
Full cure time @ 22°C

24hr

24hr
1hr
24hrs
8hrs
24hrs
24hrs
24hrs
8hrs
24hrs
Full cure time @ 65°C

45min

45min
10min
30min
30min
30min
30min
3hrs
30min
30min
Minimum temperature

-20°C

-20°C
-20°C
-40°C
-20°C
-40°C
-40°C
-40°C
-40°C
-40°C
Maximum temperature

+140°C

+140°C
+200°C
+120°C
+105°C
+120°C
+120°C
+120°C
+120°C
+120°C
Mechanical strength

low

low
low
high
medium
high
low
low
low
high
Vacuum compatible (dry)

excellent

excellent
yes
yes
yes
yes
yes
yes
yes
yes
RoHs compliant

yes

yes
yes
yes
yes
yes
yes
yes
yes
yes
Weight

40g

25g
15g
25g
15g / 25g
15g / 25g
15g / 25g
15g / 25g
25g
25g
Bottle size

60cc

30cc
30cc
30cc
15cc / 30cc
15cc/15cc
15cc/30cc
15cc/30cc
30cc
30cc
Thinner-Extender

Water

Water
Isopropanol
Acetone
MEK
Acetone
Acetone
Water
Acetone
Acetone
Shelf life @ 20°C

> 3 year

> 3 year
> 1 year
> 3 year
> 3 year
> 3 year
> 3 year
> 3 year
> 2 year
> 3 year
SDS (click links to view)

C30

C32

C33

C38

AG15

AG42

AG44

AG46

AC29

NI41
Epoxy type
EM-Tec AG 30
EM-Tec AG 31
EM-Tec AG 32
Product #
15-002430
15-002431
15-002432
Pot life
4 hrs
10 minutes
4 hrs
Electrical conductivity
0.0007 ohm.cm
0.0174 ohm.cm
0.006 ohm.cm
Thermal conductivity @ 25°C
@ 50°C
@ 100°C
1.748 W/(m.K)
1.750 W/(m.K)
1.684 W/(m.K)
0.903 W/(m.K)
0.893 W/(m.K)
0.813 W/(m.K)
0.850 W/(m.K)
0.826 W/(m.K)
0.961 W/(m.K)
Hardness Shore
73D
75D
73D
Density
2.82
2.44
2.19 g/cm3
Outgassing (curing)
0.03%
0.16%
0.04%
Vacuum compatibility
Good
Less
Good
Compression strength
35.9 MPa
13  Mpa
64.6 MPa
Tensile strength
8.9 MPa
6.28 Mpa
13.5 MPa
Cure time @ 22°C
Cure time @ 65°C
Cure time @ 100°C
96 hrs
120 minutes
60 minutes
24 hours
15 minutes
11 minutes
96 hours
120 minutes
50 minutes
Minimum temperature
-40°C
-55°C
-40°C
Maximum temperature
+150°C
+150°C
+150°C
Weight (in 2 syringes)
21g
14g
15g
Mixing ratio
1:1 by volume
1:1 by volume
1:1 by volume
Shelf life @ 20°C
> 2 years
> 2 years
> 2 years
SDS
SDS
SDS
| | |
| --- | --- |
| Material | Silver filled polymer |
| System | Single component, solvent |
| Silver particle size | 10-15µm |
| Fill | 8.5 grams |
| Conductivity | 0.2-0.5 ohms/square/25µm |
| Max. temperature | 205°C (400°F) |
| Tack-free time @25°C | 3-5 minutes |
| Cure time @ 25°C | 20-30 minutes |
| Cure time @ 125°C | 5 minutes |
| Pen tip | 0.8mm |
| Trace width | 1.0 – 1.6mm |
| | SDS |
Solvents for paints and cements
A selection of  solvents for solvent based carbon and silver paints
Nickel paint is a lower cost alternative to silver paint