EM-Tec Multiple SEM pin stub holders
EM-Tec multiple SEM pin stub holders are an efficient and cost-effective way of loading multiple SEM pin stubs with specimens in the SEM.  Using this holder saves time, allows multiple sample processing and is a convenient way of comparing samples against each other. Intended for holding  standard 12.7mm (1/2") SEM pin stubs, although larger 25.4mm (1") pin stubs can be used on the holders for six pin stubs or more.  All the positions on holders for six pin stubs or more are numbered for easy identification. Pin stubs are securely held with small M3 stainless steel set screws. For  multi pin stub holders up to 12 pin stubs an allen key is included. On the 29 and 49 multi pin stub holders pin stubs are held with an integrated stainless steel spring.  The 6 and 8 multi pin holders comprise engraved crossed lines to assist with directional navigation. They are all made from vacuum grade aluminium and have undergone a final cleaning step which results in a satin surface finish.
Available with:
Standard pin to fit on SEMs which use the standard pin; ThermoFisher Scientific/FEI, Philips, Tescan, Phenom, Cambridge Instruments, Leica, CamScan, SEMs
M4 threaded hole, compatible with Hitachi SEMs, FESEMs and table top SEMs and with the EM-Tec versatile SEM stage adaptors
32mm JEOL SEM stub format, compatible with 32mm stub holders on JEOL SEMs
Additionally, there are two 45 degrees pre-tilt multi-pin holders available:
3 x 45° SEM pin stub holders
6 x 45° SEM pin stub holders
Both with pin and M4 threaded hole.
A special version for 7 x 25.4mm SEM pin stubs is available, please see EM-Tec P7.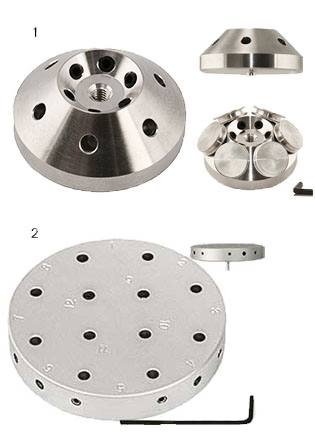 1: #12-000346 EM-Tec P6/45 multi pin SEM stub holder
Ø45° for six pin stubs, Ø35x14mm with M4 thread.
2: #12-000219 EM-Tec P12 multi pin SEM stub holder for 12 pin stubs, Ø62×10.5mm with pin.
Capacity, size and compatibility of EM-Tec multi pin stub holders:
| | | | | | |
| --- | --- | --- | --- | --- | --- |
| Product numbers | Name | Pin stubs | Dimensions w/o pin | Pin securing method | SEM stage compatibility |
| 12-000214 | EM-Tec P4 | 4 | Ø31.5×10.5mm | Set screw | Standard 3.2mm SEM pin stub |
| 12-000314 | EM-Tec P4 | 4 | Ø31.5×10.5mm | Set screw | M4 thread |
| 12-000517 | EM-Tec P4 | 4 | Ø31.5×10.5mm | Set screw | JEOL 32mm SEM stub |
| 12-000216 | EM-Tec P6 | 6 | Ø43×10.5mm | Set screw | Standard 3.2mm pin |
| 12-000316 | EM-Tec P6 | 6 | Ø43×10.5mm | Set screw | M4 thread |
| 12-000218 | EM-Tec P8 | 8 | Ø50×10.5mm | Set screw | Standard 3.2mm SEM pin stub |
| 12-000318 | EM-Tec P8 | 8 | Ø50×10.5mm | Set screw | M4 thread |
| 12-000219 | EM-Tec P12 | 12 | Ø62×10.5mm | Set screw | Standard 3.2mm SEM pin stub |
| 12-000319 | EM-Tec P12 | 12 | Ø62×10.5mm | Set screw | M4 thread |
| 12-000229 | EM-Tec P29 | 29 | Ø90x7mm | Internal spring | Standard 3.2mm SEM pin stub |
| 12-000329 | EM-Tec P29 | 29 | Ø90x5mm | Internal spring | M4 thread |
| 12-000249* | EM-Tec P49 | 49 | Ø117x7mm | Internal spring | Standard 3.2mm SEM pin stub |
| 12-000349* | EM-Tec P49 | 49 | Ø117x5mm | Internal spring | M4 thread |
| 12-000243 | EM-Tec P3/45 | 3 x 45° | Ø25x14mm | Set screw | Standard 3.2mm SEM pin stub |
| 12-000343 | EM-Tec P3/45 | 3 x 45° | Ø25x14mm | Set screw | M4 thread |
| 12-000246 | EM-Tec P6/45 | 6 x 45° | Ø35x14mm | Set screw | Standard 3.2mm SEM pin stub |
| 12-000346 | EM-Tec P6/45 | 6 x 45° | Ø35x14mm | Set Screw | M4 thread |
| 12-000237 | EM-Tec P7 | 7×25.4 | Ø78x15mm | Set Screw | Standard 3.2mm SEM pin stub |
| 12-000337 | EM-Tec P7 | 7×25.4 | Ø78x15mm | Set Screw | M4 thread |