EM-Tec S-Clip SEM specimen holders
EM-Tec S-Clip specimen holders comprise one or more spring-loaded sample clips (S-Clips) either on an SEM specimen stub or a SEM sample holder. Spring-loaded S-clips are specifically designed to hold thin specimens up to 2mm , with optional stand-off pillars  available to accommodate thicker samples. Small washers can also be used to increase the clamping height.
The S-clip is mounted with a small M2 screw which allows the S-clip to rotate. S-Clips are made from conductive, spring-grade copper alloy, allowing samples to be clamped securely without the need for conductive adhesives or conductive pastes. Sample exchange is quick, easy and clean – contamination issues due to adhesives or glues are eliminated. They are ideal for holding  silicon chips and other thin samples.
EM-Tec S-Clip SEM specimen holders are available for the following SEM platforms:
Standard SEM pin stubs for TFS, FEI, Philips, Tescan, Phenom, Pemtron, Coxem, Cambridge, CamScan, Leica etc

Zeiss SEM pin stubs (shorter pin) for Zeiss and LEO SEMs

JEOL plain cylinder  SEM sample stubs

Hitachi M4 cylinder SEM sample stubs
EM-Tec S-Clip specimen holders are available to hold samples horizontally (flat), at angles of  45° or  90° and are useful for holding cross sections of thin samples and wafer pieces. EM-Tec S-Clip SEM specimen holders are a cost effective alternative for  1"-3" silicon wafer holders. They can hold  smaller 1"(25.4mm), 2" (51mm) and 3"(76mm) wafers if they are held down with S-Clips: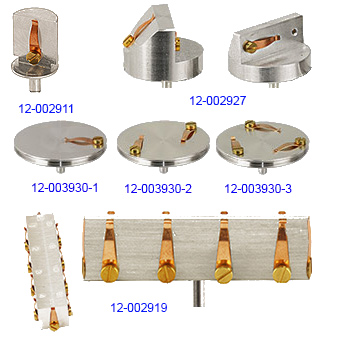 EM-Tec S-Clips are also separately available to enable users to make their own custom made sample clip holders. Dimensions are 12.8mm long, tip is 1.6mm wide, height is 1.5mm with a Ø2.2mm hole for mounting with an M2 screw. Made from 0.25mm thin spring-grade copper alloy. Included with EM-Tec S-clips are three M2 mounting screws.
Sample thickness is 0-2mm for the standard EM-Tec S-Clip. With stand-off pillars thicker samples can be accommodated. Stand-off pillars are 4mm high and they can be mounted between the S-Clap and the holder. They are stackable.