EM-Tec transmission-EBSD sample holders for TEM and FIB grids
EBSD analysis is a powerful microstructural crystallographic characterisation technique for crystalline or polycrystalline materials. Standard EBSD analysis on bulk samples and surfaces is performed on high-tilt samples (typically 70° from horizontal). The EBSD pattern reveals the crystal orientation and in polycrystalline materials the variation of orientation amongst the crystals. For optimum EBSD results, deformation-free, polished surfaces are needed.
Transmission EBSD (t-EBSD) analysis is only possible on (very) thin TEM specimens on a TEM grid or on a TEM lamella attached to a FIB grid. EBSD analysis on thin samples can be performed in backscatter mode at 70° tilt (from horizontal) or transmision mode at 20° (from horizontal). For transmission EBSD or t-EBSD it is imperative that transmitted electrons can reach the EBSD detector without any obstruction.
EM-Tec  t-EBSD holders are specifically designed to generate transmission Kikuchi patterns. The t-EBSD holders include an opening of Ø2mm in the base. The top is formed by a fork-shaped phosphor bronze clip which clamps the TEM or FIB grid so that t-EBSD imaging and analysis is possible over the Ø2mm  area.
EM-Tec t-EBSD holders are available with one to three TEM grid capacity. The choice of configurations include:
EM-Tec T1 t-EBSD sample holder for a single TEM grid or FIB grid, standard Ø3.2mm (1/8") pin to be mounted on existing pre-tilt holders
EM-Tec T3 t-EBSD sample holder for three TEM grids or FIB grids, standard Ø3.2mm (1/8") pin to be mounted on existing pre-tilt holders
EM-Tec TE1 t-EBSD sample holder kit for a single TEM grid or FIB grid with 70° and 20° pre-tilt, pin / M4
EM-Tec TE3 t-EBSD sample holder kit for three TEM grids or FIB grid with 70° and 20° pre-tilt, pin / M4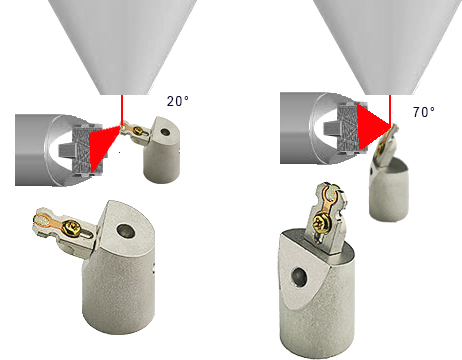 Capacity, size and compatibility of EM-Tec t-EBSD sample holders and kits
| | | | | | |
| --- | --- | --- | --- | --- | --- |
| Product # | Style | Tilt angles | Size w/o pin | TEMT-EBSD Grid capacity | Compatibility |
| 12-002371 | EM-Tec T1 | –    t-EBSD | 6x11x4.5mm | 1 | 3.2mm SEM pin stub |
| 12-002373 | EM-Tec T3 | –    t-EBSD | 16x11x4.5mm | 3 | 3.2mm SEM pin stub |
| 12-002271 | EM-Tec TE1 | 70° /20° t-EBSD | Ø12.7 x 30mm | 1 | 3.2mm SEM pin stub |
| 12-002273 | EM-Tec TE3 | 70° /20° t-EBSD | Ø12.7 x 30mm | 3 | 3.2mm SEM pin stub |
| 12-003271 | EM-Tec TE1 | 70° /20° t-EBSD | Ø12.7 x 30mm | 1 | M4 thread |
| 12-003273 | EM-Tec TE3 | 70° /20° t-EBSD | Ø12.7 x 30mm | 3 | M4 thread |