EM-Tec U2 universal SEM specimen holder and SEM stubs adapter kit
EM-Tec U2 universal SEM specimen holder and SEM stub adapter kit has been created to hold a wide variety of SEM specimens up to 42mm. The specimens can be flat, round, block or awkwardly shaped. Also included in this kit is a useful selection of SEM stub adapters which enables using this kit on virtually any SEM. Fully compatible with TFS/FEI/Philips, JEOL, Hitachi, Tescan, Zeiss/LEO and other brands of SEMs.
Ideally suited for:
multi-user environments
labs with different brands of SEMs
labs with a large and changing variety of specimens
service labs to cope with different specimen stubs
portability between SEM platforms
The selection of popular and practical EM-Tec SEM specimen holders all include an M4 threaded hole. Fully compatible with the SEM stub adapters provided in this universal specimen holder kit and with Hitachi SEMs.
Included SEM stub adapters in the EM-Tec U2 kit are:
pin stub adapters for FEI/Philips, Zeiss/LEO, Tescan, Amray
a 12.2mm JEOL stub adapter with M4 screw
a 12.2mm JEOL stub adapter for pin stubs
EM-Tec P4 multi pin holder double as pin stub adapter for Hitachi  SEMs.
The complete kit is presented in a high quality wooden box with all the SEM specimen holder and adapters neatly arranged in a hard plastic insert. This kit can also be used to convert SEM specimen stubs up to 32mm diameter to fit other SEM brands.
Features of the EM-Tec U2 universal SEM specimen holder and adapter kit:
versatile and universal kit for specimens up to 42mm specimen size
quick and easy specimen holding
SEM platform independent
SEM platform interchangeable
conversion set for SEM specimen stubs included
effortless reconfiguration of SEM specimen holders
practical, productive, portable
neatly arranged in a wooden box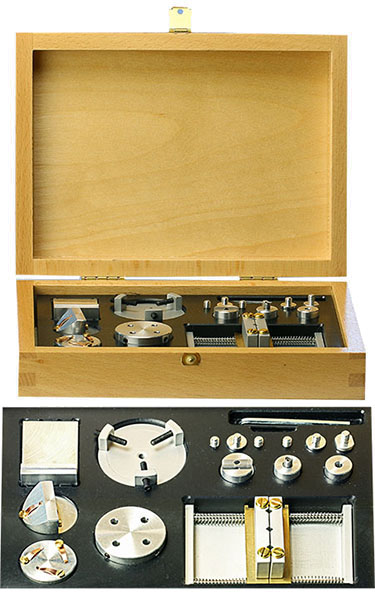 EM-Tec U2 universal SEM specimen holder and adapter kit includes all of the following:
SEM specimen holders :
| | | | | |
| --- | --- | --- | --- | --- |
| Product # | Holder type | Description | Capacity | Specimen holding |
| 12-000300 | EM-Tec V22 | Compact vice clamp | 0-22mm | Vice jaws |
| 12-000306 | EM-Tec HS6 | Mini vice clamp | 0-6mm | Set screw |
| 12-000314 | EM-Tec P4 | Multi holder for 4 pin stubs | 4x pin stubs | Set screws |
| 12-000320 | EM-Tec S42 | Universal spring-loaded vice holder | Up to 42mm | Vice jaws |
| 12-000333 | EM-Tec R32 | Bulk specimen holder | Up to Ø32mm | Set screws |
| 12-004920-3 | EM-Tec S-Clip | 3xS-Clip on Ø25mm M4 stub | Up to 2mm H | S-Clips |
| 12-004927 | EM-Tec S-clip | 2xS-Clip on 45/90° on Ø25mm M4 stub | Up to 2mm H | S-Clips |
 SEM stub adapters:
| | | | | |
| --- | --- | --- | --- | --- |
| Product # | Adapter type | Description | Base | Adapts to |
| 11-000106 | EM-Tec ZR4 | Short pin stub adapter with rim to M4 | Short Zeiss pin | M4 |
| 11-000116 | EM-Tec Z4 | Short pin stub adapter to M4 | Short Zeiss pin | M4 |
| 11-000109 | EM-Tec PR4 | Pin stub adapter with rim to M4 | Standard pin | M4 |
| 11-000119 x 2 | EM-Tec PT4 | Pin stub adapter to M4 | Standard pin | M4 |
| 11-000120 | EM-Tec KR4 | Long pin stub adapter with rim to M4 | Long pin | M4 |
| 11-000513 | EM-Tec J12P | JEOL Ø12.2mm stub to pin | Ø12.2x10mm JEOL stub | pin |
| 11-000514 | EM-Tec J12H | JEOL Ø12.2mm stub to M4 | Ø12.2x10mm JEOL stub | M4 |