Kleindiek MIS micro injection plug-in tool
The MIS-EM is a micro-valve plug-in system for microinject various liquids onto your specimens in low-vacuum SEM using the precise positioning capabilities of the MM3A-EM micromanipulator.
The unique combination of precision manipulation and controlled microinjection has attracted a lot of interest in the MIS-EM since its launch.
precise positioning of injection site
highly controlled injection
easily fitted to an MM3A-EM micromanipulator
Applications:
Food – sugar coating reactions

Textile – swelling of fibres

Pharma – chemical reactions

Building – cement testing

Biology – regenerative medicine

Metallurgy – metal corrosion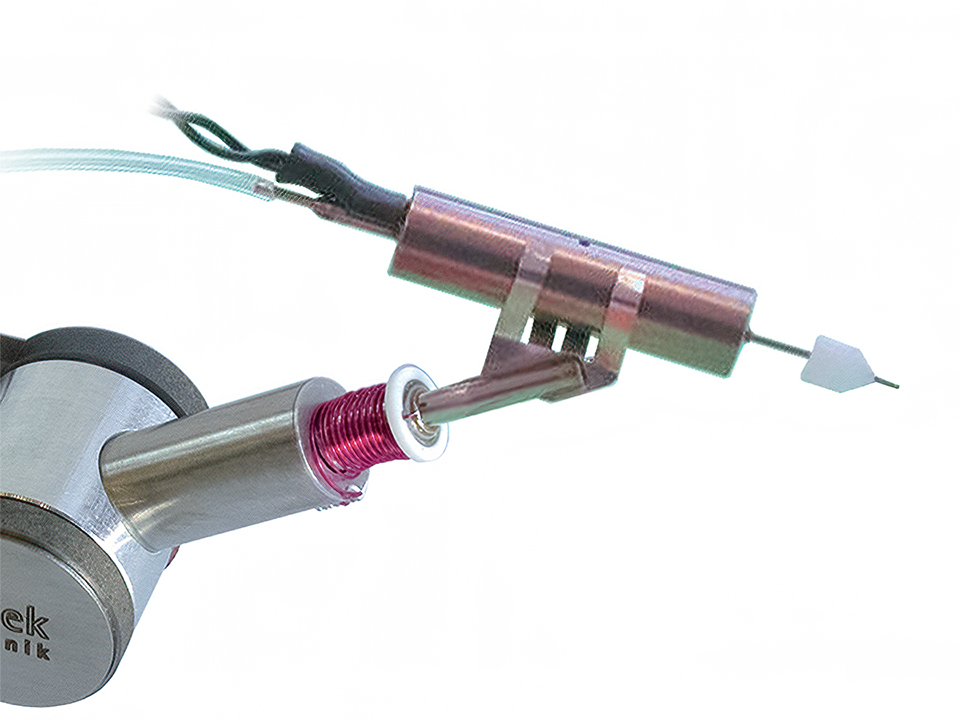 Part number PL-MIS-EM-000
ESEM-compatible microinjector plug-in for the MM3A-EM. The system includes a microvalve, a control module, a power supply, a vacuum flange, vacuum and air-side cabling/piping with feedthroughs and an operator's handbook.
Micro valve length: 31.4 mm
Micro valve diameter: 5.6 mm
Inlet inner diameter: 0.6 mm
Outlet outer diameter: 0.5 mm
Outlet inner diameter: 0.25 mm
Injection pipette outer diameter: 150 µm
Injection pipette inner diameter: 50 µm
Weight: 3 g
Smallest drop size: 100 µm*
Temperature range: 273 K to 353 K
Wetted materials: EPDM seal (ethylene propylene), PEEK polymer (polyaryletheretherketone), PPS (polyphenylene sulphide), glass, polyoxymethylene, stainless steel, epoxy
* Measurement made using water: drop size depends on fluid viscosity.
All technical specifications are approximate. Due to continuous development, we reserve the right to change specifications without notice.
Kleindiek MIS micro injection system 
The MIS micro or liquid injection system