PTFE high temperature tape
Single-sided tape consists of a brown fiberglass fabric backing impregnated with PTFE
(polytetrafluorethylene) and coated with a high temperature, pressure sensitive silicone adhesive. This creates a high strength, corrosion resistant, high temperature, low friction tape with unique properties. Total thickness of this robust tape is 0.18mm. The tape is self-wound without a liner.
Properties of brown PTFE coated fiberglass fabric high temperature tape:
High temperature resistance
Low friction, slick surface
Dimensional stability
high strength, puncture resistant
Very low moisture absorption
High electrical resistance
Excellent chemical resistance
Although this tape has been designed for high temperature applications, its unique design with high strength, high electrical insulation and low friction properties, means this tape has a wide range of applications, including:
Release tape on heat sealers
Adhesion tape for heating strips on high vacuum systems
Electrical insulation
Lining of guiding rails and slides
Release lining for moulds
Barrier tape for dissimilar materials
Robust, high strength packaging tape
Available in widths from 10 to 50mm with a length of 10m. Clean 32mm diameter plastic core.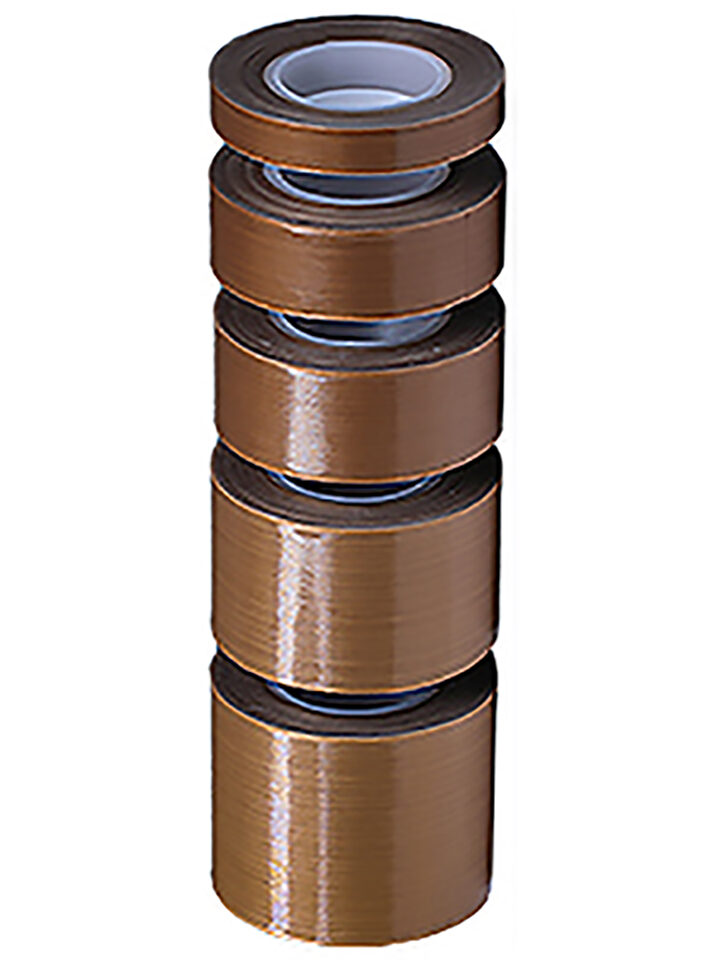 Specifications
| | |
| --- | --- |
| Tape material | PTFE / woven fiberglass fabric |
| Colour | Brown |
| Adhesive | Silicone |
| Backing film thickness | 0.12 mm |
| Adhesive thickness | 0.06 mm |
| Total thickness | 0.18 mm |
| Adhesive strength | 15N / 25 mm |
| Tensile strength | 1700N / 100mm |
| Elongation | 0.5 % |
| Dielectric strength | 25 kV |
| Temperature use range | -73 to 260 °C |
| Max. temperature | 300°C / 10 minutes |
| Length | 10 m |
| Core diameter | 32 mm (1-1/4 ") |