ultra sonic diamond knives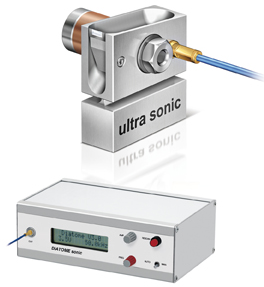 The DiATOME ultra sonic 3.0mm is a unique oscillating diamond knife for thin sectioning of soft materials at ambient temperature.
Sectioning soft materials at ambient temperatures can result in as much as a 20% reduction of the specimen's vertical dimension due to compression. The ultra sonic is a patented oscillating diamond knife that produces ultrathin sections at ambient sectioning temperatures almost free from compression.
A piezo actuator is built in to the knife and produces an oscillation of the 3.0mm 35° diamond edge parallel with the cutting plane. The separate controller enables a desired frequency (20 to 45kHz) and amplitude to be set for the knife to section at thicknesses in the range of 15 to 100nm.
Below is an example of a soft polymer sphere sectioned with and without oscillation showing the reduced compressions ontained with the ultrasonic diamond knife.