EM-Tec wafer holders for SEM
EM-Tec wafer holders are specially designed to hold semiconductor wafers in sizes of 51mm, 76mm, 100mm, 150mm and 200mm diameter (2 inch, 3 inch, 4 inch, 6 inch and 8 inch). They are compatible with wafers with either a flat or with a notch. The unique locking slide is adjustable to cope with non-standard wafers. Made from vacuum compatible aluminium and self-lubricating brass.
Unique features of EM-Tec wafer holders:
Low profile, weight balanced support disc
Square cut-outs for wafer tweezers
Adjustable spring tension
Adjustable for non-standard wafers
Self-lubricating locking slide
Compatible with either wafers with a notch or wafers with a flat
Compatible with EM-Tec stage adaptors for all SEM platforms
Available with:
Standard pin to fit on SEMs which use standard pins: ThermoFsher Scientific/FEI, Philips, Zeiss, LEO, Leica, Tescan,  Cambridge Instruments, CamScan, SEMs.
M4 threaded hole, compatible with Hitachi SEMs, FE-SEMs and table top SEMs and with the EM-Tec versatile SEM stage adaptors
Ø14mm JEOL stub compatible with JEOL and EM-Tec stage adaptors with a Ø14mm connection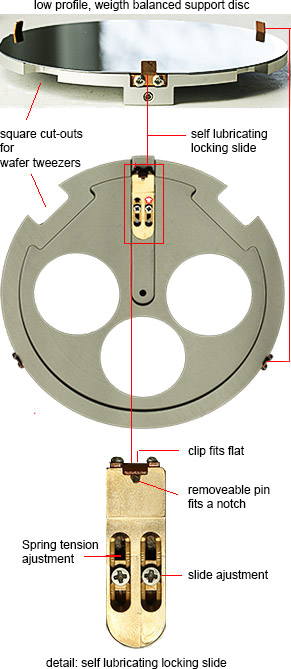 Please note: When using the larger wafer holders (6in / 150mm and above) we would recommend the M4 version combined with a stage adaptor for your make and model of SEM/FIB. The stage adaptor easily screws into the base of the wafer holder and ensures maximum stability when in use. Please see our wide range of stage adaptors.
Capacity and dimensions of EM-Tec wafer holders:
| | | | | | |
| --- | --- | --- | --- | --- | --- |
| Product # | Type | Wafer sizes | Dimensions w/o pin | Securing method | SEM stage comp. |
| 12-000282 | W2 | 51mm / 2" | Ø76x18mm | Springloaded slide | Standard 3.2mm pin |
| 12-000382 | W2 | 51mm / 2" | Ø76x18mm | Springloaded slide | M4 thread |
| 12-000682 | W2 | 51mm / 2" | Ø76x18mm | Springloaded slide | Ø14mm JEOL stub |
| 12-000293 | W3 | 76mm / 3" | Ø76x18mm | Springloaded slide | Standard 3.2mm pin |
| 12-000393 | W3 | 76mm / 3" | Ø76x18mm | Springloaded slide | M4 thread |
| 12-000693 | W3 | 76mm / 3" | Ø76x18mm | Springloaded slide | Ø14mm JEOL stub |
| 12-000284 | W4 | 100mm / 4" | Ø106x16mm | Springloaded slide | Standard 3.2mm pin |
| 12-000384 | W4 | 100mm / 4" | Ø106x16mm | Springloaded slide | M4 thread |
| 12-000684 | W4 | 100mm / 4" | Ø106x16mm | Springloaded slide | Ø14mm JEOL stub |
| 12-000286 | W6 | 150/mm / 6" | Ø156x16mm | Springloaded slide | Standard 3.2mm pin |
| 12-000386 | W6 | 150mm / 6" | Ø156x16mm | Springloaded slide | M4 thread |
| 12-000686 | W6 | 150mm / 6" | Ø156x16mm | Springloaded slide | Ø14mm JEOL stub |
| 12-000288 | W8 | 200mm / 8" | Ø206x16mm | Springloaded slide | Standard 3.2mm pin |
| 12-000388 | W8 | 200mm / 8" | Ø206x16mm | Springloaded slide | M4 thread |
| 12-000688 | W8 | 200mm / 8" | Ø206x16mm | Springloaded slide | Ø14mm JEOL stub |