Kleindiek iLo intelligent lift-out software
The iLO Graphic User Interface provides an intuitive and seamless way of positioning the MM3A-EM  micromanipulator tip or MGS2 microgripper on the specimen, lifting it out and attaching to the desired receptacle.
The tool tip is positioned by simple drag & drop actions while the tip's motion is automatically adjusted for the currently active beam, the beam's rotation, as well as the magnification.
The software provides a new action button that executes a perfectly vertical lift-out motion. It also integrates a convenient park & restore function as well as a stand-by position providing an intermediate 'parking' position within the microscope's field of view where the needle can be placed between liftouts.
Control for the MGS2-EM microgripper is also supported by iLO.
Similarly the RoTip-EM rotational tip can also be operated via the software. After calibration, the RoTip can perform continuous compucentric rotation.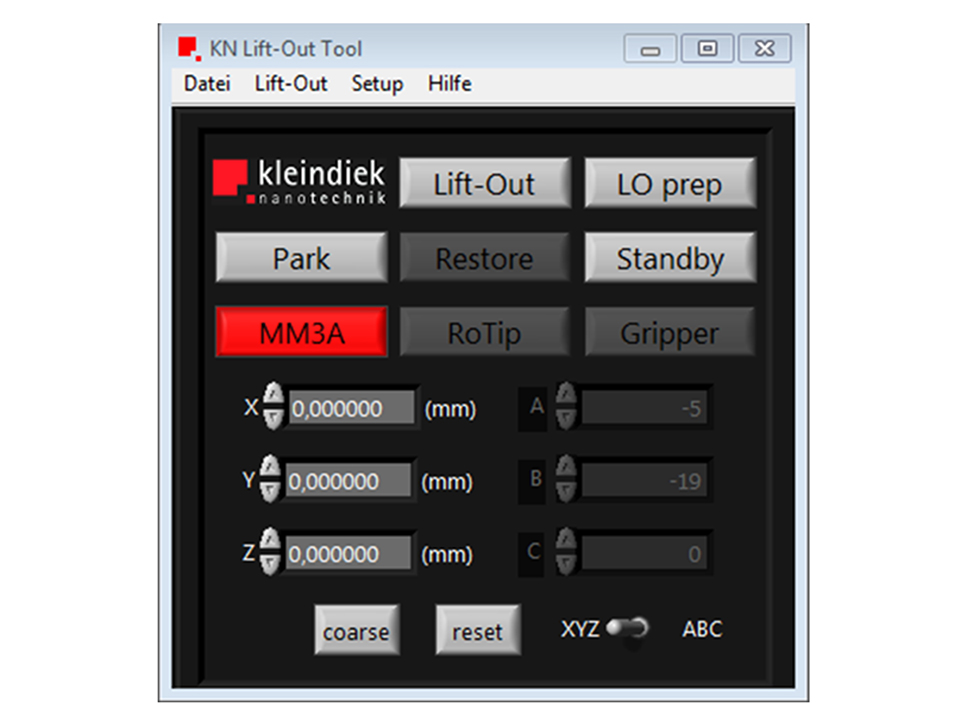 Part number PL-MGS2-EM-001  – a microgripper plug-in for the MM3A-EM and MM3E.
Total length: 28 mm
Tip length: 5 mm
Height: 5 mm
Gripping area: (5 to 10 µm)²
Resolution: 20 nm
Gripping force: 5 to 5000 µN (variable)
Maximum span range: 20 to 40 µm
Temperature range: 273 K to 353 K
Lowest pressure: 10-7 mbar
All technical specifications are approximate. Due to continuous development, we reserve the right to change specifications without notice.